Imation IronKey S1000 is fastest hardware-encrypted USB 3.0 flash drive on Earth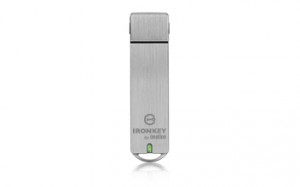 The world of computing is getting very scary. I tend to be a bit of a conspiracy-theorist, mostly due to my inquisitive nature. While being concerned about hacked hardware and government surveillance would be viewed as paranoia years ago, it now becomes a sad reality.
In light of Kaspersky Labs' bombshell and brilliant research (deserving of an award, in my opinion), we now know that nothing can be trusted -- your hard drive may be an undetected spy. Today, Imation announces the IronKey S1000, a hardware-encrypted USB 3.0 flash drive, which the company calls the "world's fastest hardware-encrypted USB flash drive". Can it thwart the now-infamous Equation Group?
"The S1000 protects files with Federal Information Processing Standards (FIPS) 140-2 Level 31 and National Institute of Standards and Technology (NIST)-approved XTS-AES 256-bit encryption, ensuring compliance with the most stringent government and industry regulations while allowing workers to remain mobile. IronKey offers double the performance of competing hardware-encrypted USB 3.0 SuperSpeed flash drives and has increased the capacity of its secure storage flash drives to 128GB, enabling users to store and retrieve the most data-intensive files quickly and easily, thus increasing user productivity", says Imation.
The company further explains, "the S1000 is twice as fast as the competition, with read speeds up to 400 MB/second and write speeds up to 300 MB/second. It combines the high performance of USB 3.0 technology with a military-grade, ruggedized, portable design that resists physical tampering and will self-destruct if unauthorized attempts to physically obtain access to the data are made. In addition, the S1000 protects against attacks such as BadUSB to which other USB vendors are vulnerable. In an industry first, based on IronKey's heritage of quality and durability, the company is offering a lifetime warranty for its S1000 family".
A lifetime warranty on a flash drive? That is a rather bold move; one that should instill confidence in consumers. Look, I know cloud storage is convenient, and it has become ubiquitous nowadays, but if your files are truly sensitive, a hardware-encrypted drive is a smart bet.
In 2015, USB 3.0 really is a must, and the relatively large 128GB option will be attractive for many. Whether it is truly the fastest hardware-encrypted flash drive on Earth remains to be seen, so hopefully this claim can be independently tested and verified soon.
If you are interested in purchasing, you can buy one here now. Be warned, however, as the sticker-shock may cause you to spit out your coffee; the 128GB model is a staggering $849! The paltry 8GB version is the least expensive at $219. To a home user, these prices are a non-starter, but for a business, securing trade secrets and client data is priceless.