UE MEGABOOM is mega loud, but is it mega awesome? [Review]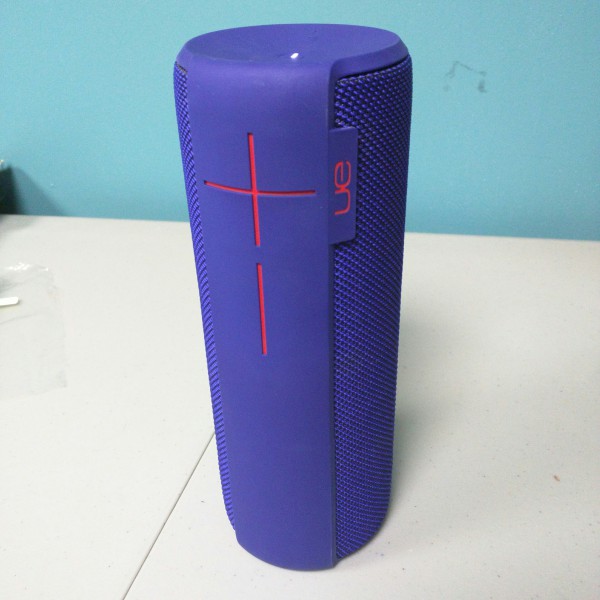 Music is my favorite hobby, and I am certainly not alone. Technology has enhanced my listening in ways that I never dreamed. As a child of the 80's, I started with cassettes and later upgraded to CD. Collecting CDs and vinyl consumed my life; I even embraced MiniDisc to create my own digital mixes from my newest records.
Nowadays, I have continued my evolution to mp3 and ultimately, streaming. Long gone are the days of collecting and storing; Spotify is the sole source of all my tunes. Whether listening on my PC, tablet or smartphone, I demand a quality speaker -- preferably Bluetooth and portable. My current favorite portable is the UE BOOM. Today, I am looking at the next-generation, called the MEGABOOM. Is it mega awesome?
Specs
Maximum Sound Level: 90dBA
Frequency Range: 65Hz - 20kHz
Drivers: Two 2 inch drivers and two 2 inch x 4 inch Passive Radiators
Rechargeable Lithium-Ion Battery for up to 20 hours of battery life between Micro USB charges.
Diameter: 8.3cm (3.3 inch)
Height: 22.6 cm (8.9 inch)
Weight: 877 g (speaker only)
Pair up to 8 Bluetooth enabled source devices --  Connect up to two source devices at the same time.
Wirelessly play (stream) to 2 UE MEGABOOMs from one source.
Mobile range of play is up to 30m (100 ft).
NFC (passive) enabled -- (works with active NFC enabled source devices Android Jellybean and higher).
Unboxing
Impressions
Upon removing the massive speaker from the packaging, I was immediately impressed by both the heft and the lack of heft. Confused? In other words, it is heavy enough to feel substantial, but I expected the MEGABOOM to be much heavier than the BOOM; not so.
The build quality exceeds that of the BOOM, however, as it is now waterproof, meaning you can throw it in a pool, or a lake and it should even float. With that said, I did not test the waterproofing outdoors, as it is extremely cold in New York, and not a time for water sports. Instead, I ran it under the water in my sink and it was not damaged. I an looking forward to using this in the summer!
Build quality is important, and it is good that the MEGABOOM is solidly built, but the real test is the audio quality. Let's be honest, the speaker is expensive at $299, so it had better make a good impression to justify the price. I am happy to say that the speaker delivers quality that matches the smaller BOOM. With that said, out of the box, both the BOOM and MEGABOOM disappoint a bit in the highs (more on that later). Vocals can sound a bit muddied, while mids and bass are well represented.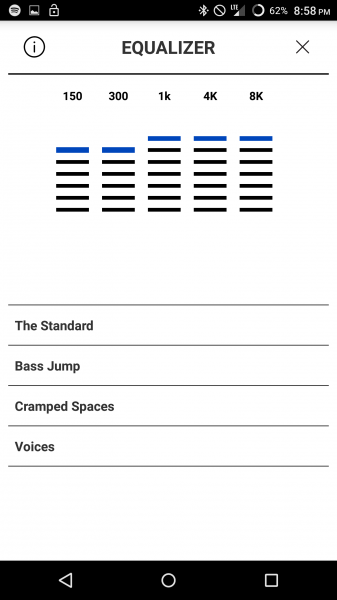 I listened to an eclectic mix of music, including rock, rap, country and dubstep. For a party setting, the UE MEGABOOM gets insanely loud, making it a great choice for a house party, outdoor barbecue or day at the beach. The 360 degree design makes it easy to position for multiple listeners. You can even connect it to a traditional camera tripod, by unscrewing the lanyard loop. With that said, be sure the tripod is large and sturdy, to match the size and weight of the speaker.
Where I came away disappointed, was listening to music by myself. When lying in bed listening to Joni Mitchell, Neil Young, Air, or Talking Heads, I found it hard to become enveloped by the music. The lack of highs impacted the experience of focusing on the music. It was apparent that the music was not being properly reproduced.
It was at this moment that I fired up the Android app, and went to the EQ. This is where you can adjust the sound to your liking. While there are some pre-set options, the custom EQ is where you can really make the sound perfect. Once adjusted, highs met my standards, and my favorite songs were playing both loud and well.
The app is available for iOS and Android, and is quite functional. Besides being an EQ, it can deliver firmware updates, serve as an alarm clock and even pair with another MEGABOOM speaker.
The UE MEGABOOM really shines when it comes to battery life too. It is rechargeable, using a traditional micro USB port. Inside the box is a neon green/yellow power brick and flat cable. Once charged, it comes close to the advertised 20 hours of play time. This makes it ideal for an all-day party.
Conclusion
It is important to remember what the speaker is and what it isn't. The UE MEGABOOM is a very rugged and loud party speaker; it is not designed for audiophiles listening to symphonies. If you want to listen in an environment such as partying with friends at the beach, or having a wild party, the MEGABOOM is brilliant.
If you want a portable speaker for the house to enjoy your favorite tunes, this is where things get tricky. Once you adjust the EQ, it makes a wonderful choice for relaxing alone with your music, but if volume and ruggedness is not an issue, why spend the extra money? In this case, I would recommend saving some green and getting the UE BOOM for $199 or MINI BOOM for $99.
Quite frankly, you cant go wrong with the MINI BOOM, BOOM, or MEGABOOM; Ultimate Ears has wisely created speakers for all budgets.
The UE MEGABOOM is mega awesome; highly recommended.