How to get 100GB of free OneDrive storage worldwide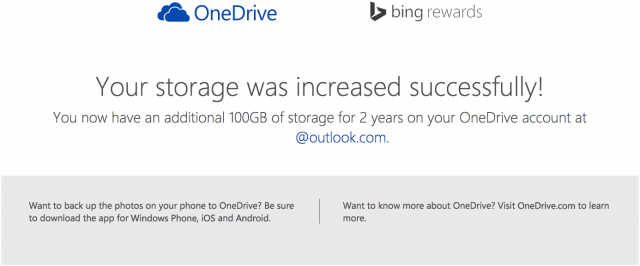 You can easily increase the amount of storage that's available with your OneDrive for free. Bonus space can be unlocked by referring the service to your friends and enabling the auto camera upload feature in the mobile apps. The most that you can get though is 20 GB. Those of us who have been using the service from the early days also get a loyalty bonus of 10 GB. But maybe that's still not enough.
As you may know, Microsoft has recently started to give Bing Rewards users the option to unlock a further 100 GB of free OneDrive storage. The catch? Only folks using the service in US have been welcome. However, now you can get the same treatment worldwide. Here's how.
The only thing that you have to do is to click on this link, which takes you to the OneDrive site, to claim that extra 100 GB of free OneDrive storage. Like the previous offer, this one is also powered by Bing Rewards. Remember to access the link while you are signed in using your own Microsoft account (or log in with it, if asked to).
Since one can never have enough storage, especially when it's free, I just took advantage of this method to add the extra storage to my OneDrive account. You'll get a similar message to the one shown in the screenshot at the top of the article. (I've removed my Outlook.com handle for obvious reasons.)
Given that there already is an Office 365 subscription attached to it -- which now gives me 10 TB of storage -- the increase is rather modest in my case. Still, come next year, even if I don't renew my subscription, I will have 141 GB of OneDrive storage, which is not too shabby.
The extra storage is good for two years, after which the 100 GB of free space will be removed from your OneDrive account.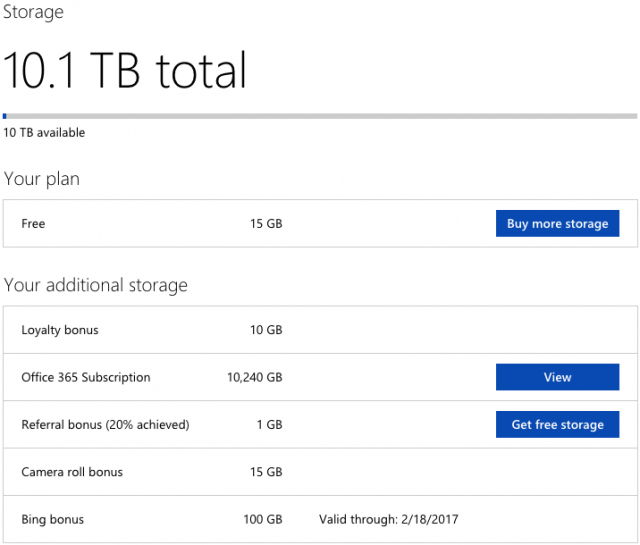 [Update] Dropbox users can get an additional 100 GB of storage on top of this offer. Find out how here.