After losing the top spot in India's smartphone market, Samsung gets robbed in the tablet category too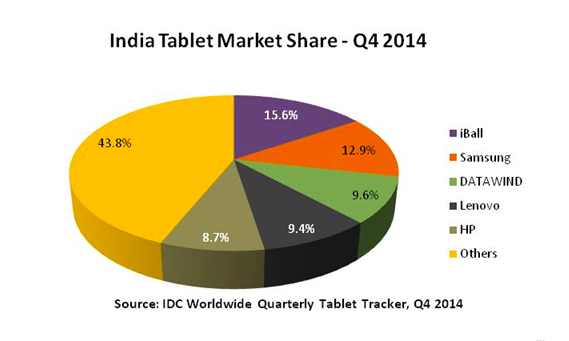 It's not only the smartphone market in which Samsung has lost the pole position, but tablets as well. The South Korean media conglomerate is no longer the largest tablet vendor in India, the emerging market for digital devices where the tablet share grew by 3.6 percent quarter-on-quarter, reports IDC.
As per the stats provided by the marketing research firm IDC, Indian OEM iBall captured the maximum market share (15.6 percent) in the country last quarter. Samsung managed 12.9 percent share, and was followed by Datawind with 9.6 percent share, Lenovo with 9.4 percent share, and HP with 8.7 percent market share.
As for the traction of tablets in India -- the country which had witnessed a strong growth in the festive third quarter -- posted shipments of 0.96 million units in Q4 2014. It's a 3.6 percent growth over the last quarter.
"The market saw a correction post the introduction of BIS regulation in July 2013. Unbranded tablets were wiped off from the market thereby contracting the bubble of growth witnessed in 1H 2013 and hence resulting in year-on-year decline in growth", says Tanvi Mann, market analyst, client devices, IDC India.
The figure also pinpoints the type of tablets that are faring well among Indians. A vast majority of users are preferring the sub-$150 units. The 3G connectivity was also a big driving factor, prominently featured in more than 60 percent of the total shipments.
Indian OEM iBall has been growing left and right. In within a year -- thanks to a number of tablets the company launched in the period -- it grew from 4.5 percent grab of the market to 15.6 percent.  Galaxy Tab maker Samsung, on the other hand, went from a 17.9 market share to 12.9 percent.
"iBall rapidly climbed its way to the number one spot in this quarter. From a 4.5 percent share in Q4 2013, the brand has more than tripled its share in Q4 2014. Its growth is backed by low cost products targeted at consumers looking to own entry level form factors. The brand is actively engaged in expanding its retail presence as well as geographical reach," says IDC.
Tablets have yet to mature in India. Despite the improving figure, only 0.96 million units were sold in the country last quarter. As per the data provided by IDC, about 76.1 million tablets were shipped worldwide in the same time frame. Datawind, which now holds the third largest share in the country, is playing a significant role in making tablets a household commodity. The company has a partnership with the Indian government to produce the Aakash tablet, a dirt cheap Android-powered device for Indian students.