LG launches mid-range Magna, Spirit, Leon and Joy Android phones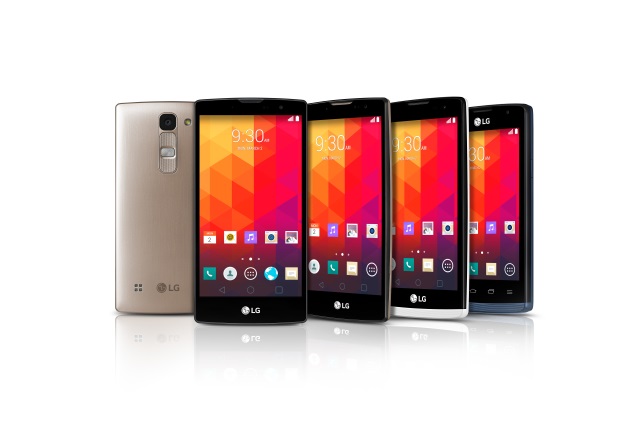 Mobile World Congress (MWC) kicks off next week, but ahead of the big event LG announces a quartet of mid-range Android handsets. Each of the four phones runs Android 5.0 Lollipop and each is available in LTE and 3G variants -- the former has a metal rear cover, and the latter's is plastic.
The Magna, Spirit, Leon and Joy all share something of a similar look and LG describes the range as combining the "perfect balance of style and usability". At the top of the current batch is the LG Magna, which boasts a 5-inch screen, 1.2GHz or 1.3GHz quad core CPU (exact specs are region-dependent), 1GB RAM and 8GB of storage.
An 8MP rear camera is backed up by a 5MP front-facer, while the removable 2,540mAh battery, LG claims, will get users through a full day even with heavy use. Taking things down a notch is the LG Spirit. Specs are virtually identical, but the screen is slightly smaller at 4.7 inches and the battery shrinks to 2,100mAh. The front camera drops to 1MP and the rear-facer is either 5 or 8 MP depending on the region. The Leon drop things further to a 4.5 inch display and a 1,900mAh battery.
Rounding things off is the smallest of the bunch, the LG Joy, with a screen that measures just 4 inches. As well as featuring a slower processor, this handset is available in a 4GB model indicating that the price should be very low.
The global rollout starts this week, but LG is yet to give pricing details.
Those specs in full:
LG Magna Specifications:
Display: 5.0-inch HD (294 ppi)
Chipset: 1.2GHz or 1.3GHz Quad-Core*
Camera: Rear 8MP / Front 5MP
Memory: 8GB / 1GB
Battery: 2,540mAh (removable)
OS: Android 5.0 Lollipop
Network: LTE Cat. 4 / HSPA+ 21Mbps
Size: 139.7 x 69.9 x 10.2mm
LG Spirit Specifications:
Display: 4.7-inch HD (312 ppi)
Chipset: 1.2GHz or 1.3GHz Quad-Core*
Camera: Rear 8MP or 5MP* / Front 1MP
Memory: 8GB / 1GB
Battery: 2,100mAh (removable)
OS: Android 5.0 Lollipop
Network: LTE Cat. 4 / HSPA+ 21Mbps
Size: 133.3 x 66.1 x 9.9mm
LG Leon Specifications:
Display: 4.5-inch FWVGA (220 ppi)
Chipset: 1.2GHz or 1.3GHz Quad-Core*
Camera: Rear 8MP or 5MP* / Front VGA
Memory: 8GB / 1GB
Battery: 1,900mAh (removable)
OS: Android 5.0 Lollipop
Network: LTE Cat. 4 / HSPA+ 21Mbps
Size: 129.9 x 64.9 x 10.9mm
LG Joy Specifications:
Display: 4.0-inch WVGA (233 ppi)
Chipset: 1.2GHz Quad-Core / 1.2GHz Dual-Core*
Camera: Rear 5MP / Front VGA
Memory: 8GB or 4GB* / 1GB or 512MB*
OS: Android 5.0 Lollipop / Android 4.4 KitKat
Battery: 1,900mAh (removable)
Network: LTE Cat. 4 / HSPA+ 21Mbps
Size: 122.7 x 64.0 x 11.9mm
*specification depend on region