Ekko integrates communications across popular online services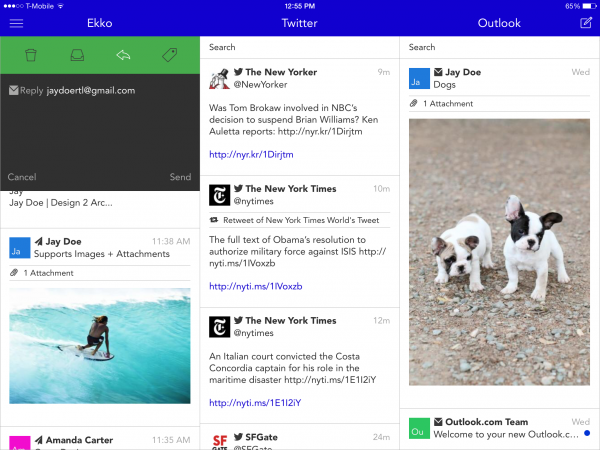 It's rare these days to rely on just one service -- you find yourself using Facebook, Twitter, Gmail and more which means information and messages are coming at you from many different angles.
This can lead to information overload as well as security worries. With its new secure platform San Francisco-based Ekko is launching a way to streamline all of your communications and protect your privacy.
"Messaging has become fragmented across multiple apps and services. We created Ekko to simplify the way we communicate, and provide everyone with a way to keep messages private and secure," says Rick Peters, President and CEO of Ekko. "Ekko also offers new and unique messaging features, including comprehensive search, multi-modal messaging, and context-sensitive functions that we feel should be part of any messaging app. We're confident that Ekko is the next generation of messaging -- private, secure, powerful, and right at your fingertips".
Available for iOS or as a web app, Ekko supports Facebook, Twitter, Gmail, iCloud, Exchange, Outlook, Yahoo, AOL, POP3, and IMAP accounts, with others in the pipeline. It uses a subscription-based model that allows you to link unlimited accounts and use channels to tune, filter, and search your messages in any way you want. Built-in, user-friendly features protect your data and support private and secure messaging. Crucially, Ekko doesn't track you or your data, nor does it scan your messages, or profile you in any way.
It allows users to apply easy-to-use security controls to any type of message, using any linked account. They can also password protect any message, redact it, or set it to delete on read -- after a predefined time or after a defined number of unique views. It lets you search simultaneously across all of your accounts ensuring you never lose track of anything important.
"A recent Pew Research Center poll revealed that 91 percent of adults surveyed felt consumers have lost control over how personal information is collected and used by companies. Clearly we, and many of you, are tired of trading away our privacy and being profiled in exchange for 'free' services and apps," says Peters. "That's why messages sent through Ekko will always be kept private, and personal data will always be protected".
Ekko charges a subscription of $5 per month (or $50 per year) but new users can try it out for $1 for the first month. You can download it from the Apple App Store or sign up via the company's site.