HTC unveils One M9 Android smartphone, Grip wearable, and Vive virtual reality mask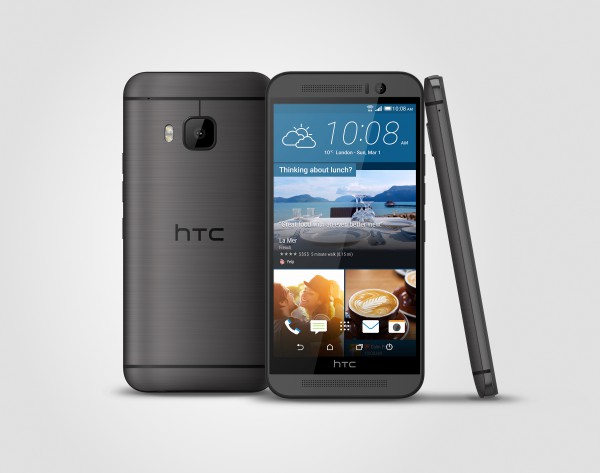 HTC is the company many Android-purists root for. Besides the Nexus line of device (which HTC has participated), going with HTC gets you a fairly stock experience with some useful additions. Its "One" line has been massively popular with both users and the media, thanks to its great performance and solid build quality. Just feeling the metal in your hands lets you know thought and care went into the design.
Today, HTC announces an all-new addition to its smartphone lineup; the One M9. This is an evolutionary upgrade from the M7 and M8, which finally drops the controversial dual-rear-camera design. While this smartphone was expected, some other new hardware was not -- HTC also announces a wearable called "Grip" and a VR-headset called "Vive".
HTC One M9
"Building on a three-year pursuit of excellence, the HTC One M9 melds the best of the award-winning HTC One M7 and HTC One M8 into a stunning, iconic design. Distinct metal edges combine perfectly with graceful curves for a jewellery-grade look. Small and easy to hold, the crafted, all-metal unibody design is highlighted by an exquisite dual-tone silver and rose gold finish that is as distinctive, as it is durable. Mirror-polished gold sides cascade effortlessly into a hairline brushed silver back panel, encasing a bright and vivid display", says HTC.
The manufacturer further explains, "your phone should make a statement about who you are, and the new HTC Sense 7 experience puts you in control of everything. Highly customizable and intuitively you, Themes puts you at the center of the smartphone experience, intelligently analyzing your favorite photos to modify the look and feel of your apps, color scheme and backgrounds".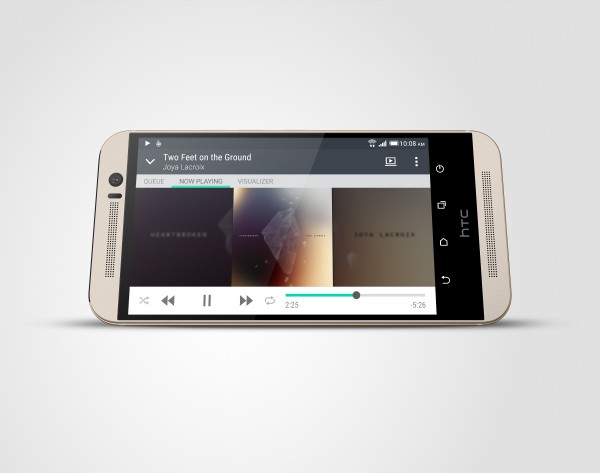 Wow, it sounds like HTC hired a poet for this announcement! I've never though of a smartphone as jewelry, but hey, what do I know?
Well, what I do know is that we tech-nerds love specs, so please check the notable ones below.
PROCESSOR
• Qualcomm Snapdragon 810 octa-core CPU
• 4 x 2GHz + 4 x 1.5GHz
• 64-bit processing
MEMORY
•   Total storage:  32GB, available capacity varies
•    RAM: 3GB
•    Expandable: microSD expansion supports
OPERATING SYSTEM
•    Android 5.0 (Lollipop) with HTC Sense 7
REAR CAMERA
•    20MP with sapphire cover lens
•    Auto-focus, BSI sensor
•    f/2.2, 27.8mm lens,  4K video recording
FRONT CAMERA
•    HTC UltraPixel
•    BSI sensor
•    f/2.0, 26.8mm lens, 1080p video recording
BATTERY
•    Capacity: 2840mAh
•    Talk time: Up to 25.4 hours for 2G / 21.7 hours for 3G
•    Standby time: Up to 391 hours for 2G / 402 hours for 3G
An octa-core CPU and 3GB of RAM? Where do I sign up? What really makes this stand out from the Nexus line is the microSD slot. This is a huge advantage for those that like taking a lot of pictures and videos. Heck, with 4K recording as an option, you need all the space you can get! Hopefully we will know pricing -- both on and off contract -- soon.
HTC Grip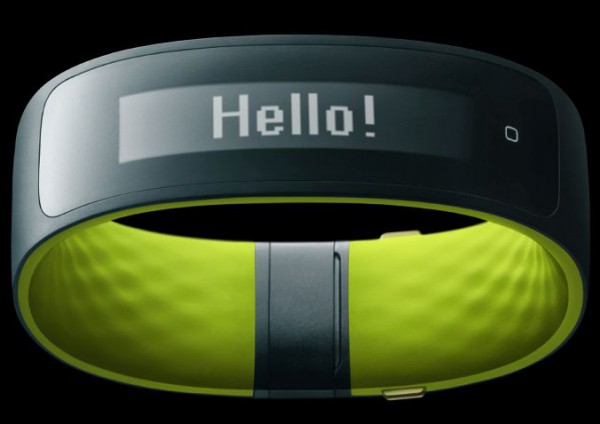 Wearables are all the rage these days, although smartwatches have not really caught on. This may change with the Apple Watch, but we will have to see if consumers embrace it beyond the initial hype. HTC wisely launches the Grip wearable, which is not a competitor for smartwatches, but more for activity trackers like Fitbit.
"Powered by UA Record, the new health and fitness network from Under Armour designed for athletes and fitness enthusiasts, Grip fuses HTC's renowned design with powerful, accurate tracking across a range of sports and activities, allowing athletes to set personal goals, then smash them. Compatible with Android and iOS devices1, as well as Bluetooth-enabled accessories like heart-rate monitors, Grip extends its functionality, providing additional performance data to the Under Armour Connected Fitness platform", says HTC.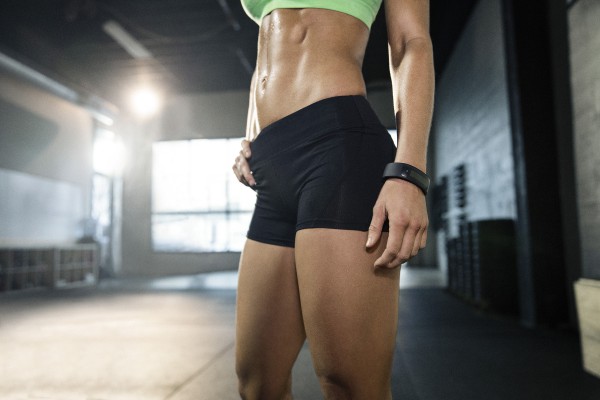 The manufacturers further says "Grip is designed to comfortably support even the most extreme training regimes. The contoured, waterproof band conforms to your wrist without pinching your skin or catching on clothing during workouts. The curved PMOLED display also makes it easy to read time, distance and notifications on the move. Available in three sizes, to ensure a perfect fit, Grip complements even the most advanced training equipment and apparel in both style and performance".
So will consumers embrace Grip? Maybe. HTC is smart to support both iOS (7 and above) and Android (4.3 and above), as it does not limit the market. With that said, HTC will be competing with the Apple watch with iOS users, whether it likes it or not. Sadly, pricing and availability were not yet announced.
HTC Vive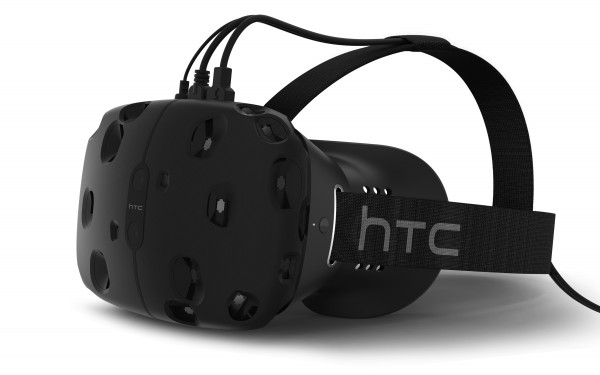 This is a risky product for HTC, as it is not the company you think to associate with virtual reality. However, the company has made a smart move by partnering with Valve on the project; surely making gamers giddy.
"Through a strategic partnership with Valve, HTC promises to transform the way in which consumers interact with technology and the world around them with the debut of HTC Vive. HTC Vive Developer Edition will be launched this Spring, with the consumer edition available by the end of 2015", says HTC.
The company further explains, "Vive offers the most immersive experience of any VR package, plunging people into other worlds at a moment's notice. HTC and Valve have introduced a Full Room Scale 360 Degree Solution with Tracked Controllers, letting you get up, walk around and explore your virtual space, inspect objects from every angle and truly interact with your surroundings. Setting a new benchmark for performance, the headset features high-quality graphics, 90-frames-per-second video and incredible audio fidelity".
The offering sounds impressive, but won't be available to consumers until the end of 2015. As we in the tech world know, that could easily be pushed into 2016. Developers, however, can start experimenting with the mask "in the spring".
Of course, with VR -- like many things -- content is king, so great hardware on its own won't sell. Don't worry, as HTC lists some impressive content partners in "Google, HBO, Lionsgate and the National Palace Museum in Taiwan".