Huawei Watch could be the first smartwatch you actually want to wear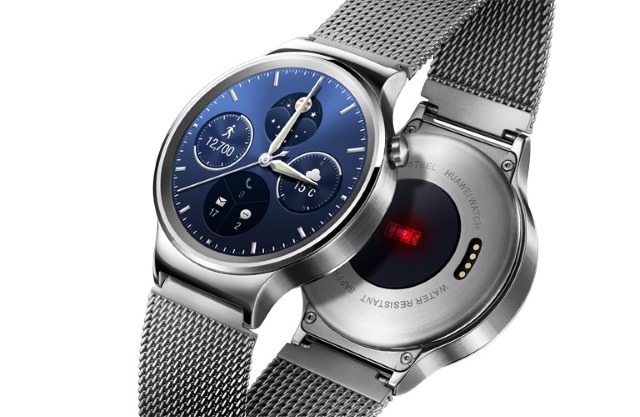 At MWC 2015, Chinese manufacturer Huawei announced its first foray into Android Wear. The company unveiled the rather predictably-named Huawei Watch today, and it's already got tongues wagging around the world. The screen is a 1.4 inch, 400 x 400 pixel AMOLED affair which is, importantly, completely round.
Packing 286 pixels per inch, the Sapphire crystal screen has a higher resolution than the Watch Urbane launched by LG today. The stainless steel case gives the watch a quality look and feel, and the device boasts a bevy of on-board sensors for tracking different activities. What is likely to prove the Huawei Watch's key to success, however, is the fact that it so closely resembles the look of a regular watch.
It's difficult to believe that this is the first smartwatch Huawei has released -- it's seriously sexy, so it seems that biding time has worked in the company's favor. Borrowing from traditional watch design, the Huawei Watch features a crown that can be used to access the app launcher. This can also be accessed by swiping to the left on the screen, while a right swipe calls up a list of frequently used contacts. Customization is a key feature of the watch. There's a choice of black, gold and silver cases, stainless steel and leather straps, and more than 40 built in watch faces so you can create something perfect for you.
In terms of specs, you'll find 4GB of built-in storage, 512MB of RAM and a Qualcomm 1.2GHz processor. There's also a 6-axis gyroscope, a barometer, and a heart rate monitor, while charging is taken care of by a magnetic cradle. It does not matter what Android phone you have, as the Huawei Watch can pair with any one over Bluetooth.
There's no word on pricing at the moment, but here are the full spec to mull over until we have more details:
Size: 42mm diameter by 11.3mm thickness
Color: Silver, Black, Gold
Display: 1.4-inch full circle AMOLED display 400x400, 286ppi Sapphire crystal
Material: 316L Stainless Steel
CPU: Qualcomm APQ8026 1.2GHz
Operation System: Android Wear
Memory: 512MB RAM + 4GB ROM
Network: Bluetooth 4.0/4.1
Sensors: Gyroscope + Accelerometer, PPG, Barometer, Vibration Motor
Audio: Built-in MIC
Battery: 300mAh