Samsung announces Galaxy S6, S6 Edge and Samsung Pay at MWC 2015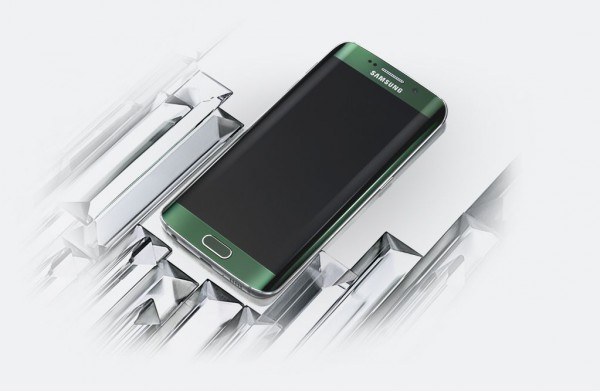 Mobile World Congress 2015 is here, and the news is coming fast and furious. The most anticipated announcement, however, has been Samsung's Galaxy S6. As expected, the smartphone is here, but so is its more beautiful sibling, the S6 Edge. Potentially more important though, is Samsung Pay -- a mobile payment system to rival Apple Pay and Google Wallet.
Unfortunately for Samsung, pundits and analysts have been talking all doom and gloom for the company, something else Apple has had to face. Much like Apple, the analysts are dead-wrong to count out Samsung in the mobile market. Quite frankly, the Android market is the Samsung market -- no other brand of smartphone is more ubiquitous in public. So are these announcements enough? Are they enough to finally make the doom and gloom pundits zip their lips?
"Carefully crafted from metal and glass, the Galaxy S6 and Galaxy S6 edge blend purposeful design with powerful features. The Galaxy S6 edge, particularly, shows unique and outstanding beauty while also providing a solid grip and an immersive viewing experience with the world's first curved display on both sides. Its glass body, made from the toughest glass to date, Corning Gorilla Glass 4, is available in an array of colorful jewel tones, including White Pearl, Black Sapphire, Gold Platinum, Blue Topaz and Green Emerald, which elicit a unique visual texture as it reflects natural light. This timeless design required first-of-its-kind glass crafting technology and unmatched quality control, setting the Galaxy S6 and Galaxy S6 edge apart from every other mobile device on the market. The premium device aesthetics deliver true value and are complemented by a totally new and lighter interface that greatly enhances usability and functionality. A refined and fully optimized user experience simplifies applications and offers features and settings in a more intuitive way", says Samsung.
The manufacturer further explains, "the thin and lightweight Galaxy S6 and Galaxy S6 edge integrate the most advanced, cutting-edge, Samsung core technology available today. The world's first 14nm mobile processor with 64-bit platform, new LPDDR4 memory system and UFS 2.0 flash memory provides higher performance and enhanced memory speed with lower power consumption. Moreover, the world's first 1440P/VP9 hardware based codec enables users to enjoy high resolution streaming video while also using less power. In addition, the 5.1-inch Quad HD Super AMOLED screen offers users the highest pixel density of 577ppi. Enhanced outdoor visibility with a brighter display (600cd/mm) lets consumers experience content without compromise -- anywhere, at any time".
While pricing and availability are not yet known, below are some notable specs.
Display (S6): 5.1 inch Quad HD(2560x1440) 577ppi, Super AMOLED
Display (S6 Edge): 5.1inch Quad HD(2560x1440) 577ppi, Super AMOLED, Dual edge
Processor: Quad 2.1GHz + Quad 1.5Ghz, Octacore application processor
OS Android 5.0 (Lollipop)
Camera 16MP OIS(rear), 5MP (front)
Connectivity: WiFi: 802.11 a/b/g/n/ac (2.4/5GHz), HT80 MIMO(2x2) 620Mbps, Dual-band, Wi-Fi Direct, Mobile hotspot, Bluetooth: v4.1, A2DP, LE, apt-X, ANT+
RAM: 3GB, LPDDR4
Internal Memory: 32/64/128GB, UFS 2.0
Wireless Charging: WPC1.1(4.6W Output) & PMA 1.0(4.2W) compatible
Dimensions (S6):143.4 x 70.5 x 6.8mm, 138g
Dimensions (S6 Edge):142.1 x 70.1 x 7.0mm, 132g
Battery (S6): 2,550mAh
Battery (S6 Edge) 2,600mAh
Unfortunately, there are two aspects of these phones that the Galaxy S fans will consider huge disappointments -- gone are removable batteries and microSD card slots. In other words, you need to pick the size you need when purchasing. Luckily, unlike Apple there is no laughable 16GB version to be found, as it is offered in 32, 64, and 128GB of storage. Obviously, most tech nerds, including myself, will want the 128GB model.
The real win on the hardware front, however, is the improved fingerprint reader. No longer must you clumsily slide your finger to unlock your device. Instead, you simply place your finger on the sensor like Apple's Touch ID. This was my biggest gripe with the S5 and Note 4.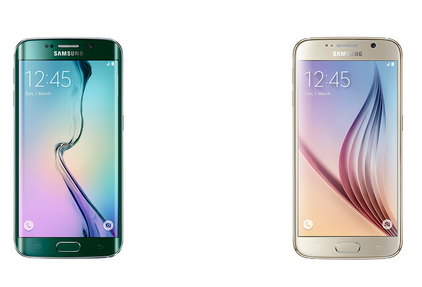 While both the S6 and S6 Edge are beautiful, the Edge is clearly the more attractive option, so I wish Samsung would have only offered it as the "S6". With that said, giving consumer choice is not a bad thing, but it can sometimes confuse shoppers.
Both models come in multiple colors, which are, according to Samsung, "White Pearl, Black Sapphire, Gold Platinum, Blue Topaz (Galaxy S6 only) and Green Emerald (Galaxy S6 edge only)". Maybe I'm alone here, but Green Emerald is my favorite of the bunch, making the phone stand out among the typical smartphone colors. Hopefully an Emerald Green S6 Edge 128GB is in my future!
While Touchwiz will be on board, there is a far more important software solution included too -- Samsung Pay. This is to compete with Apple Pay and Google Wallet, obviously, but will consumers take notice?
"Samsung Pay has the potential of being accepted at approximately 30 million merchant locations worldwide, making it the only mobile payment solution with near universal acceptance. Samsung offers this capability by deploying a groundbreaking technology called Magnetic Secure Transmission (MST). Consumers can use Samsung Pay in merchant locations regardless of whether the terminals support NFC or traditional magstripe, which is the vast majority of existing terminals".
This new technology comes from Samsung's acquisition of LoopPay. How does MST work? According to the LoopPay website, "MST technology generates changing magnetic fields over a very short period of time. This is accomplished by putting alternating current through an inductive loop, which can then be received by the magnetic read head of the credit card reader. The signal received from Loop emulates the same magnetic field change as a mag stripe card when swiped across the same read head. Loop works within a 3-inch distance from the read head. The field dissipates rapidly beyond that point, and only exists during a transmission initiated by the user".
This is a game changer, as Samsung Pay will work in places where Apple and Google's solutions cannot. Until merchants switch entirely to NFC-styled transactions, MST is a great stop-gap.
Which model do you prefer, the Samsung Galaxy S6 or S6 Edge? Tell me in the comments.