Microsoft launches Windows 10-ready Lumia 640 and Lumia 640 XL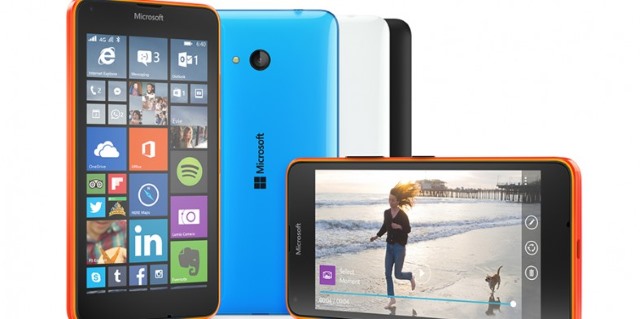 It was something of a poorly kept secret, but this morning at MWC Microsoft announced the two latest additions to its range of Lumia handsets. News of the Lumia 640 and Lumia 640 XL had already crept out over the weekend thanks to a slightly premature news release that was later pulled, but now the handsets are official and "keeping you prepared for anything".
These may be fairly low-end phones, but there's one thing the handsets are prepared for -- Windows 10. The 5-inch Lumia 640 and 5.7-inch Lumia 640 XL will arrive with Windows Phone 8.1, but are in line for a Windows 10 upgrade. To increase the appeal of the phones, Microsoft is throwing in a one-year license for Office 365, 60 minutes of international Skype calls each month, and 1TB of OneDrive storage. But what about the specs?
These are not powerhouse handsets as the price of €139 to €219 (depending on the model) reveals. The smaller, cheaper Lumia 640 features a 2,500 mAh battery and an 8MP camera. The handset is powered by a 1.2GHz quad-core CPU and features 1GB of memory. The 3G version will cost around €139 (about $155), while the LTE version will be around €159 (about $177). Moving up to the larger Lumia 640 XL, the camera jumps to 13MP, and the battery to 3,000 mAh. The 3G version will cost around €189 (about $211) and the LTE around €219 (about $245). Single-SIM and dual-SIM LTE and dual-SIM 3G will be available.
Microsoft describes the 640 range as being suitable for use at home, at work and on the go, and the bundled services and software certainly help in that department. The year-long Office 365 Personal subscription allows for installation of the office suite on the phone as well as on a tablet and PC, while the 1TB of OneDrive space can be used to expand the phones' storage.
As is customary for Lumia device, these two handsets will be available in a variety of colors. The 5-inch Lumia 640 XL launches in March in matte cyan, orange and black, matte white and glossy white, but if you prefer the Lumia 640, you have to wait until April to buy it in glossy cyan, orange and white, or matte black.