Sony unveils Xperia Z4 Tablet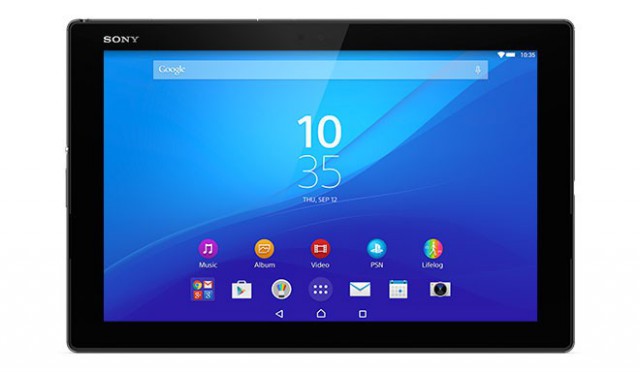 Two flagship smartphones a year is one too many. Consumers who buy those top-of-the-line handsets do not like seeing their new purchase being outclassed in the same year it launches. Thankfully, Sony has learned its lesson, as there is no Xperia Z4 at MWC 2015. However, it's a bit strange that we're seeing Xperia Z4 Tablet. It's like the tablet division didn't get the memo, naming it after a device that's not here yet.
For those of you not keeping track of Sony's flagship tablets, Xperia Z4 Tablet is the successor to Xperia Z2 Tablet, announced at last year's MWC. The more-recent Xperia Z3 Tablet Compact that made its debut at IFA 2014 features a much smaller display, targeting iPad mini -- instead of full-blown iPad -- buyers. Let's take a look at Xperia Z4 Tablet.
Xperia Z4 Tablet comes with everything you can expect to see right now in a flagship tablet. Its 10.1-inch display features a resolution of 2,560 by 1,600. The processor is a 64-bit, 2 GHz octa-core Qualcomm Snapdragon 810, backed by an Adreno 430 GPU, 3 GB of RAM and a 6,000 mAh battery -- battery life is rated at 17 hours of video playback. Of course, it runs Android 5.0 Lollipop.
Lots of people seem to love taking photos with their tablets, so Sony is catering to this audience by slapping an 8.1 MP camera on the back of Xperia Z4 Tablet. On the front, there is a 5.1 MP camera. Video recording is limited at 1080p.
Sony is giving Xperia Z4 Tablet buyers a decent amount of space out-of-the-box, as the slate features 32 GB of built-in storage. For expansion, there is a microSD card slot, which can take cards up to 128 GB in size.
On top of this, Xperia Z4 Tablet also offers Bluetooth 4.1, Wi-Fi 802.11ac, NFC, a 4G LTE option and IP68 certification, the last of which means the slate is waterproof and dust-resistant. It comes in at 167 x 254 x 6.1 mm and 389 grams (the 4G LTE model weighs 393 grams).
Sony says that Xperia Z4 Tablet will go on sale starting in June, so there's quite a bit of wait ahead of us. There is no pricing information yet, but I don't expect it to cost less than $500. It'll be offered in black and white.