ASUS RP-AC52 Dual-Band Wireless Range Extender: An affordable solution to patchy Wi-Fi [Review]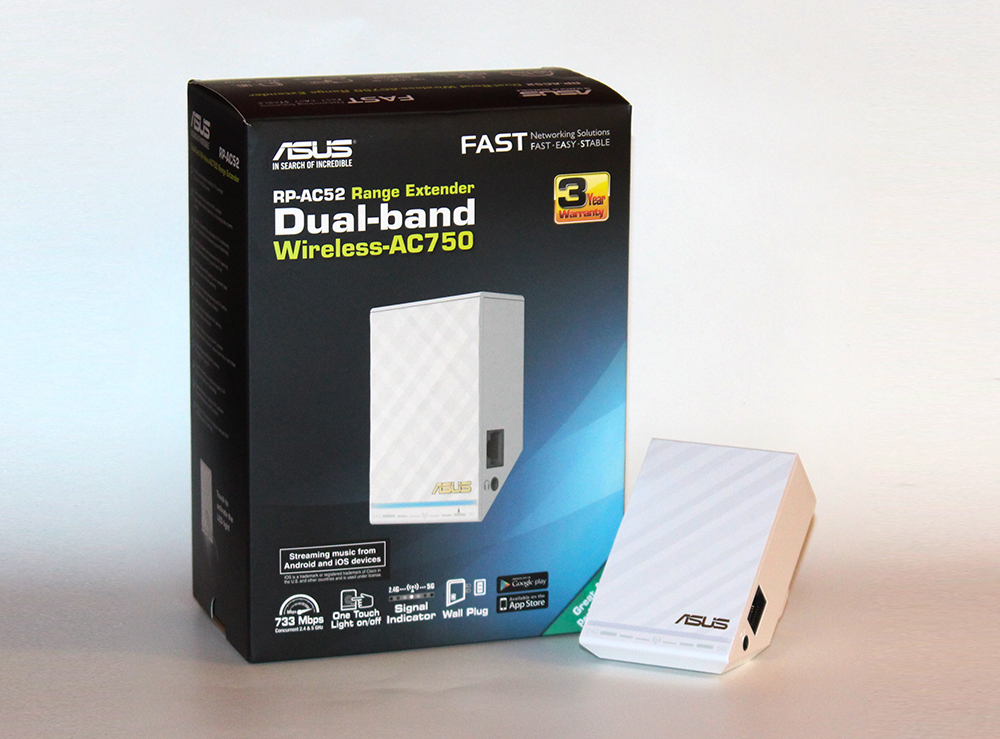 My home broadband connection is a speedy (up to) 152Mbps, and when I'm downloading on a PC connected to the router, I get impressive speeds. But because the router is in the basement (where my home office is), accessing the internet in other rooms via Wi-Fi is often flaky and unreliable. At times I can't connect at all.
I've boosted the connection with multiple TP-Link 300Mbps Universal Wi-Fi Range Extenders and while that's helped, the truth is the end result is still far from great. ASUS's RP-AC52, an 802.11ac concurrent dual-band wireless range extender, looks to be a suitable solution to my woes -- but is it?
The device is easy to set up and you have two options. Plug it into a power socket close to your wireless router and you can connect through the GUI (launch a browser and go to http://repeater.asus.com) or use WPS (Wi-Fi Protected Setup), which is the simpler option.
Once it's set up, you can move the device to a new location. This should be the halfway point between the router and the location where you're struggling to get a good signal. There are signal indicators for the 2.4GHz and 5GHz bands and one or both bands need at least two (preferably three -- the maximum) signal indicator lights on. Anything less you'll have to move the range extender elsewhere.
If you only have lights on for the 2.4GHz band it's likely your router doesn't support the 5GHz band or you have a very weak signal.
The range extender has 2x 2.4GHz and 1x 5GHz internal MIMO antenna and promises speeds of up to 300Mbps (802.11n -- 2.4 GHz) and 433Mbps (802.11ac -- 5GHz). Depending on what equipment you connect to your wireless network you'll obviously receive speeds far less than that in the real world.
There's a 10/100 base-T RJ-45 socket and also an audio out jack built into the device. The latter lets you connect a speaker or sound system, and if you download the free ASUS AiPlayer app (for Android and iOS) you can control playback from your smartphone or tablet. The range extender also has built-in support for internet radio, and you can manage your favorite stations through the app or the router's GUI.
Finally, there a built-in night light that you can turn on or off by touching the bottom of the range extender face. The same spot can also turn playing music on or off.
So did the RP-AC52 fix my problems? Yes. In a room where I've always had patchy Wi-Fi and was only able to get speeds of 10Mbps (on the 2.4GHz band) from the router alone, connecting the range extender boosted the speed to 54Mbps and the connection has yet to drop. In a room where I've rarely been able to connect to Wi-Fi, I had no problems establishing a pretty solid connection and speeds of 28Mbps.
If you have patchy and unreliable Wi-Fi it's a great solution, and based on personal experience I'd definitely recommend it.
The ASUS RP-AC52 Dual-Band Wireless-AC750 Range Extender costs £61.67 (including free delivery) from Ebuyer.
Photo Credit: Wayne Williams