Ubuntu-based Linux distro elementary OS 0.3 'Freya' available now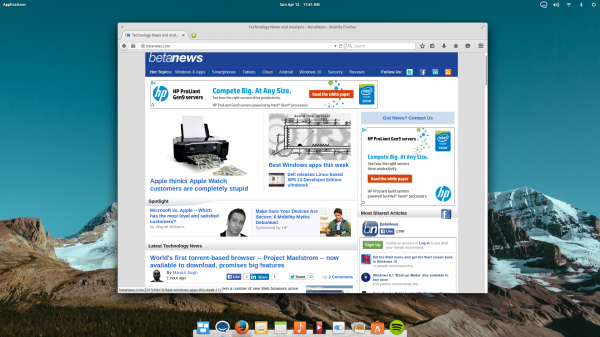 There is no such thing as the perfect Linux distribution. Try all you want, but your search will leave you fatigued and confused; perfection is impossible. With that said, you can definitely achieve happiness once you commit to a distro despite potential shortcomings. Ultimately, you must weigh the pros and cons and pick something that meets your needs.
For many people, Ubuntu is a smart choice, as it has many packages and a huge community for support. When I say Ubuntu, I also mean distros based on it, such as Mint and the distro du jour, elementary OS. If you are a fan of simplicity, elementary may be a great choice. The latest stable release, "Freya", is available for download now. It features a UI that I would call a Frankenstein-like marriage between GNOME and OS X's dock; it may appeal to Linux-newcomers and experts alike. Will you try it?
"Freya's design is much more purpose driven and focused. We spent a lot of time taking advantage of new toolkit features like Header Bar, improved CSS support, and animations. There's a much greater level of fluidity when you navigate or reveal a new part of the interface. Freya also shakes off some of the trends of the early 2010s like high gloss and embraces a more matte look while preserving and enhancing our use of light and shadow", says Daniel Foré, founder and lead designer of elementary.
Cassidy James Blaede, UX designer at elementary further explains, "with Luna, much of our work was building the first version of our desktop environment Pantheon. With Freya we were able to dial in on the details like super-subtly rounded corners on the display and the new animations for maximizing. Both are small yet make the whole experience more polished. We were also able to focus much more effort on the included apps, delivering new features for existing apps and new apps alike."
Daniel Foré shares the following improvements, fixes and additions to the latest stable version of the OS.
A more discoverable, redesigned, and app-focused multitasking view
New interactive and dismissible notifications, plus a notifications settings pane including a system-wide "Do Not Disturb" mode
A refined look and feel that includes a refreshed system-wide stylesheet, refreshed icons, space-saving Header Bars, a dark stylesheet for apps, rounded corners on menus and dialogs, improved animations, many new and refined "symbolic" icons, intelligent transparency for the panel, and more.
Better emoji support & drop-in replacements for Microsoft Core fonts for the web
A new firewall tool and "privacy mode"
Much improved Applications menu including support for "quicklist" actions, drag-and-drop from search, and support for quick math calculations
An updated software stack including Linux 3.16, Gtk 3.14, and Vala 0.26
UEFI support
A new captive portal assistant to make connecting to public WiFi easier
Redesigned Displays, User Accounts, Applications, and Date & Time settings
Unified login and lock screens
Search in Files and Terminal
Natural Copy & Paste, Smart tab labels, and a warning when pasting commands containing "sudo" in Terminal.
A redesigned Photos
New Calculator, Camera, and Videos apps
Online calendar support (Google and CalDAV)
Improved Samba support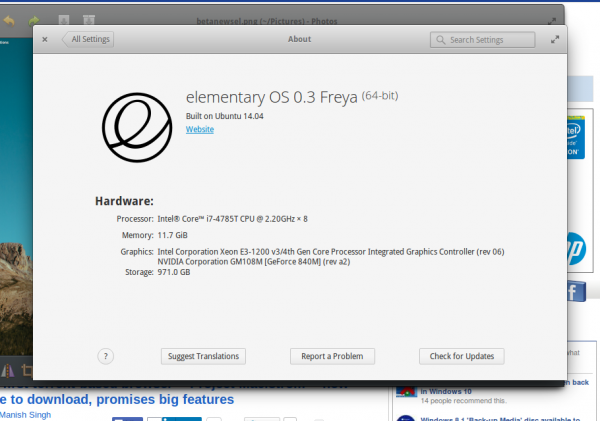 This morning, I woke up, drank a cup of coffee and installed Freya. I put the ISO on a USB 3.0 flash drive using unetbootin. The installation was smooth, and was exactly as you would expect from an Ubuntu-based OS. Once up and running, I was impressed with the polish and beauty of the environment.
Unfortunately, beyond the pretty face, I did experience some annoying bugs. My Intel WiFi worked out of the box, but somehow broke after a post-install update. Without an Internet connection, I would have been dead in the water, but luckily I had a USB WiFi adapter handy that saved the day.
I then installed some software I use such as Firefox, Spotify, Hip Chat and Dropbox. Spotify worked flawlessly and I was playing music quickly. Dropbox, however, installed, but failed to run. Hip Chat ran great, but when I attempted to drag the icon to the dock, my mouse cursor went wacky, turning into the Hip Chat icon and refusing to click. I had to reboot.
Speaking of rebooting, every time I do, my speakers make a loud popping sound. I am a bit worried that elementary OS, over time, could damage the speakers this way.
Ultimately, it is a pretty OS, but there are definitely some show-stopping bugs. This is troubling, as this is supposed to be a "stable" release. Will you experience the same bugs that I did? Not necessarily. Different hardware will yield different results. For the mean time, however, I would recommend Ubuntu or Linux Mint as a better option for beginners.
If you want to test the operating system, you can download the ISO here. To put it on a flash drive, download unetbootin here. If you try it, tell me what you think in the comments below.