Divoom Voombox-Outdoor portable Bluetooth speaker [Review]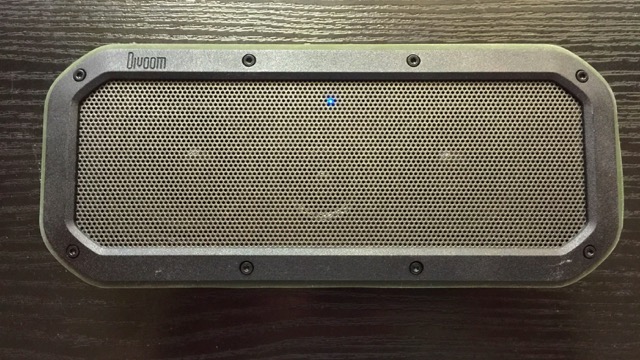 Smartphone speakers are rubbish when it comes to playing music. There are some exceptions, like HTC's One M flagships, but, generally speaking, the sound quality just isn't there. There is only so much you can ask for from a tiny little speaker, trapped inside a small shell. So, if you want more oomph, you will have to hook up your smartphone to an external speaker.
Of course, if you want something that you can carry with you, you should actually be looking at a portable speaker. An interesting such offering is Divoom's rugged Voombox-Outdoor, which can connect to your smartphone either through a cable or, better yet, via Bluetooth. Here is what you should know about it.
Voombox-Outdoor is 185 mm (7.28 in) long, 60 mm (2.36 in) thick and 78 mm (3.07 in) high and weighs 700 g (1.54 lbs). It's certainly not small and light, but it feels very well put together. The speaker grills (one on each side) are surrounded by black plastic and held to the case by eight screws. Between them, there's a nice, surrounding rubber strip that goes along the width of the device. My review unit came in green, but there's also black and red to choose from.
Divoom claims that Voombox-Outdoor is IPX44-rated (weather-resistant), which would make it a good choice for those who want a portable speaker to take on trips. I haven't taken it apart, but the company says that, to achieve the IPX44 rating, it has placed metal rings around the speaker grills and a ridge rubber to cover "the rest of the body". I haven't had any issues yet, and it's been used mostly in humid conditions. It also looks like it might handle a small drop with ease, although it'll sure leave a mark.
On top, there are the four buttons. Two control volume (they can also be used to go to the next/previous track), one is for playback (play and pause) and pairing and the other one is the on/off button. The rubber strip goes above them, ensuring that no water will go through. The buttons are easy to find with your finger (there are indentations on each), so you'll have no trouble controlling Voombox-Outdoor when it's dark.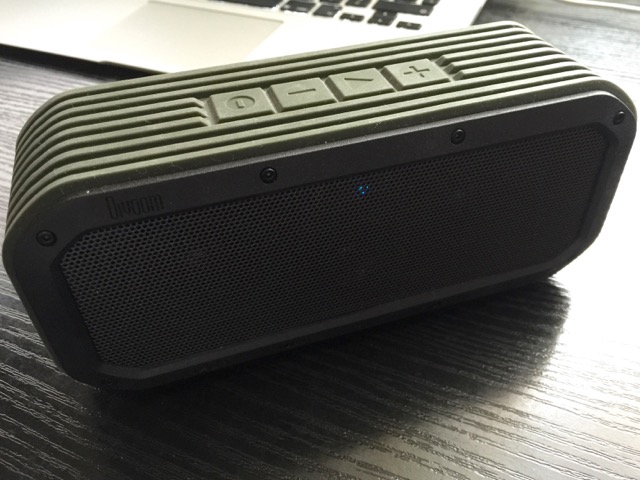 Connecting via Bluetooth is simple. After turning on Voombox-Outdoor, simply hold down the playback button for a couple of seconds. This will make the speaker enter pairing mode, (there's a small LED on a side that'll start blinking when it happens) after which you'll be able to connect to it from your smartphone.
There's no pairing code required, and you can switch between different sources (that have been previously connected) in a similar fashion. You can even answer and decline calls using the same button; a simple press will accept the call, while a two-second press on the playback button will reject the call. There's a microphone inside that lets you talk to the person on the other end. Battery life for calls is rated at 15 hours; your smartphone will likely call it quits way before Voombox-Outdoor.
I have had no problems connecting any of my devices to Voombox-Outdoor. I have tested the speaker with an Apple iPhone 6 Plus, MacBook Air, Samsung Galaxy S6 and Nokia Lumia 520, as well as other devices. I have also had no problems connecting through a concrete wall, so connectivity is well done.
I should also mention that on my iPhone 6 Plus, running iOS 8.3, there's a battery indicator for Voombox-Outdoor, shown next to the Bluetooth status bar icon. It comes in handy, seeing as there's no other way of telling how much battery's left. Battery life is quoted at 12 hours, which matches my experience with it.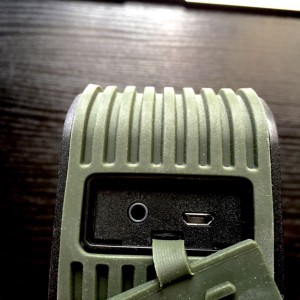 Speaking of the battery, it can be charged using a normal phone charger. It's a smart move, because there's no charger included in the box. There is, however, a bundled microUSB cable, as well as a small wrist strap that you can hook to Voombox-Outdoor.
If you don't want to use Bluetooth, you can use the provided cable to connect your smartphone (or any other device that has a 3.5 mm headphone jack) to the speaker. The cable is rather short, so I would get a longer one, just in case, for trips.
Divoom also advertises on its site the ability to pair your smartphone with Voombox-Outdoor using NFC. I haven't figured out how to get it to work using my Google Nexus 7, which has an NFC chip on the back, nor do I see any mention on how to get it working in the provided user guide.
Now let's talk about the sound. Inside, you'll find two stereo speakers, and a tweeter in between; on the back there are two passive radiators behind the speakers. For those interested, power is rated at 15 W, which I find more than sufficient for my needs. In a small room, it'll be more than enough if you want to have something playing in the background. It will also handle the outdoors fine, assuming it doesn't have to overpower other noise. So, how does it sound?
Well, I have to say that I have been satisfied with the sound quality coming out of Voombox-Outdoor. I have tested the sound quality using YouTube music -- which isn't exactly high-fidelity -- and some of my favorite songs in MP3. It sounds good even when the volume's all the way up. I haven't noticed any distortion. There's even some bass in there, which is easily noticeable when the right tunes are playing.
The only problem that I have noticed with Voombox-Outdoor is a hissing sound that's most noticeable when the device isn't playing anything. It happens on both Bluetooth and cable connections. This seems to be a problem with other Bluetooth speakers as well. To be perfectly fair, it's a minor issue for Voombox-Outdoor, and other such devices, considering that they're not designed with high-fidelity in mind, but rather portability and convenience.
Finally, let's talk about price. The version that I have tested currently goes for $79.90 on Amazon, which is $20 less than the standard $99.99 asking price. The black and red models cost the same. Compared to other Bluetooth speakers we have covered, Voombox-Outdoor offers great value for money, seeing that it's very well built, sounds good and offers solid battery life.
Photo Credit: Mihaita Bamburic