AVG introduces Crumble for Chrome, claims you can surf without surveillance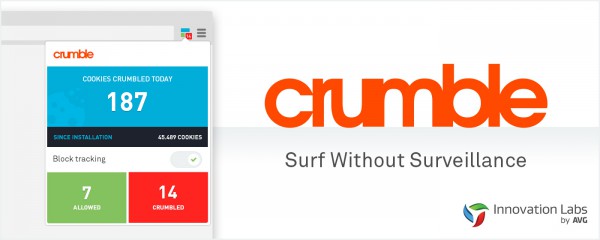 In today's world privacy has become a premium and companies and governments are the ones in the hotseat thanks to Edward Snowden, WikiLeaks and others. People are searching out ways to avoid being tracked, a difficult task in this current society. AVG is the latest to offer a solution.
The security firm is announcing Crumble, a new extension for Chrome that promises you can "surf without surveillance". The app comes from the Innovation Labs and is still in beta at the moment, but users can start testing it out now.
It won't protect you from the NSA, but it will prevent the tracking of cookies. AVG claims "While this is not the first solution of its kind, we do think that our implementation makes Crumble the best solution against online cookie tracking".
The security company states it will stop sites from creating a profile on you, will always be up-to-date, doesn't favor ad-networks, doesn't ruin the user experience or hinder the display of content and shows what sites are trying to track you.
The company promises "Because, we manage rather than block third party cookies, this means you will always get the full website experience; no broken plugins, no missing content, no weird behavior".
AVG also states that because of the way this works -- identifying the types of cookies as opposed to using the blacklist method -- it allows it to spot new trackers immediately without needing an update. "This also means that we do not offer preferential treatment to trackers (aka whitelist them) unlike some other extensions".
You can grab the beta version now by visiting the Chrome Web Store and for a bit more info you can check out the FAQ page. If you don't like it, well, that's the way the cookie crumbles.