Opera 29 gains tab sync across devices, customizable keyboard shortcuts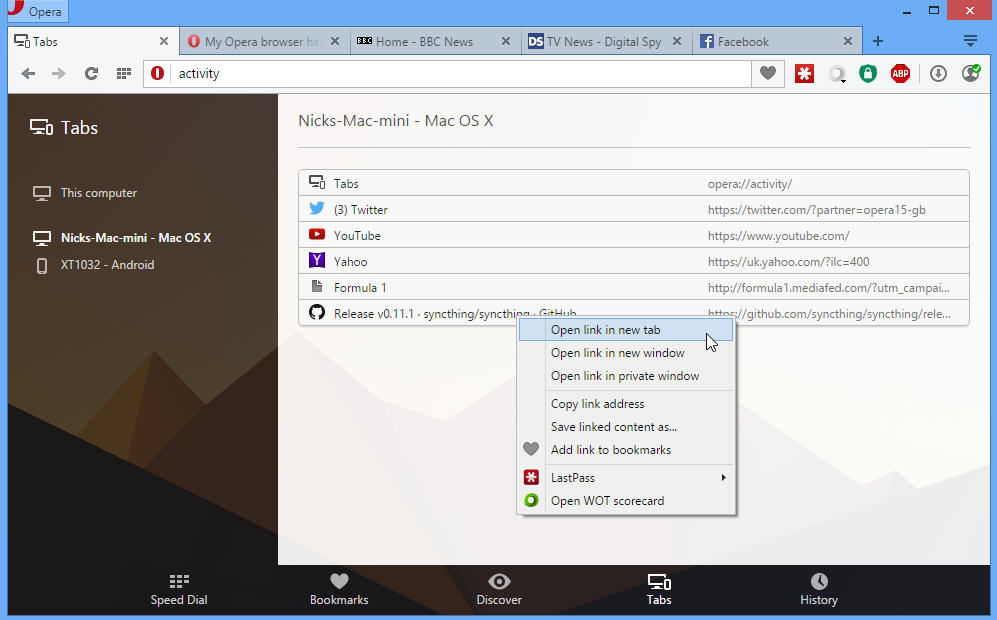 Opera 29 FINAL has been released for Windows, Mac, Linux, and Android, bringing major improvements for those who like to browse across a range of devices with the ability to sync tabs between mobile and desktop platforms.
Version 29 also adds support for customizable keyboard shortcuts as well as a new indicator tool to help pinpoint which browser tab audio is being played from. The update also includes some useful minor tweaks too.
Tab synchronization follows on from support for keeping bookmarks in sync between computer and mobile, which was unveiled in version 28. As before, users will need an Opera account for the feature to work -- click the profile button next to the Address bar to sign in or create an account.
Once signed into each device, users can then browse available tabs via the Speed Dial -- click Tabs to access it, then browse available tabs by device.
Users can also browse Speed Dials from other connected devices too -- go to Bookmarks and select "Other Speed Dials" to do so.
The desktop build also introduces support for customizable keyboard shortcuts -- open Settings > Browser and scroll down to the Shortcuts section where a new "Configure shortcuts" button can be found. Click this to change available shortcuts -- including options for activating extensions.
An indicator has also been added to tabs playing audio, to help users identify where music and other sounds are coming from. Look for a small animated graphic equalizer appearing over the top of the tab icon. In our tests the indicator appeared fine on the Mac build, but not on our Windows PC.
Other desktop improvements are aimed at boosting productivity, including added support for more mouse gestures, standalone images being aligned centrally and the addition of a History button to the Speed Dial and other start pages.
The Android build also gains some significant changes. Off-road mode has now been replaced by Opera Turbo to compress web pages in order to boost loading times and reduce bandwidth usage; elsewhere, text wrapping has been improved and there's 64-bit support too.
Opera FINAL 29 is available now as a freeware download for Windows, Mac, Android and 64-bit Linux users. Also available are Opera Mini for Android 8.0 and Opera Mini for iOS 10.0.1, although users should note that tab sync has not (yet, at least) been implemented on either platform.