Windows Store to gain subscriptions and phone payments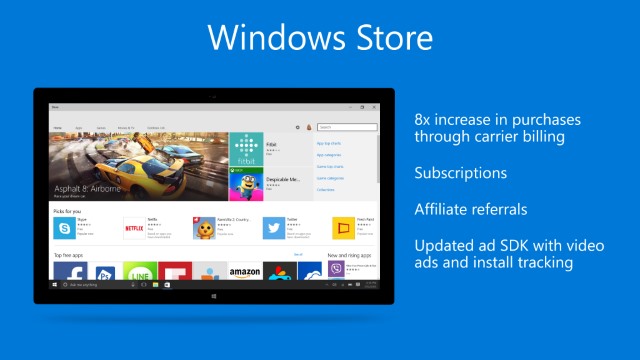 Today at Build 2015, Microsoft revealed some exciting changes to the Windows Store -- not least that it will soon be much, much easier for iOS and Android app developers to convert their creations into Windows 10 apps. But this is far from the end of the story, and there are also important payment and subscription options on the horizon.
Microsoft is introducing support for in-app purchasing of subscriptions, providing developers with new ways to monetize their apps. To help make it easier for devs to get money from customers, the ability to pay for purchases with a mobile phone is also to be added.
This payment option is something that will prove popular with users and developers alike. For users, the option to pay for apps and services through a mobile phone bill is something that will be welcomed by those without a credit card, and developers are certain to be pleased with any system that makes it easier for people to pay for their apps. In all, there are 90 carriers on board and Microsoft predicts that this method of payment will prove popular in emerging markets.
System administrators will gain the option of pushing app recommendations to users, as well as distributing business apps to the workforce.  Other changes include an updated Windows 10 Microsoft Advertising SDK which brings support for video ads and install tracking, and further monetization is made possible through a new affiliate scheme. Microsoft used the keynote to appeal to developers by highlighting the ease with which Windows 10 apps can be pushed to the full Windows 10 device family.