Windows 10 Transformation Pack 3.0 and Windows 10 UX Pack 3.0 arrive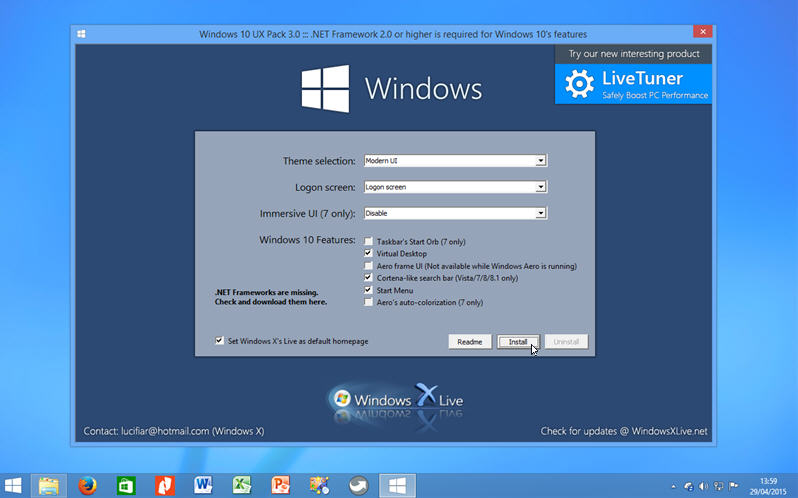 WindowsX has released Windows 10 UX Pack 3.0 and Windows 10 Transformation Pack 3.0, new builds for its Windows skinning tools.
Each tool allows users to emulate the forthcoming Windows 10 user interface on PCs running older versions of Windows from XP upwards, the difference being that the UX Pack is less radical and promises not to touch any system files, making it easier and safer to use.
Both UX Pack and Transformation Pack add a choice to the installer that makes the Cortana-like search bar introduced in version 2 optional. The search bar emulates the look of the forthcoming Microsoft Cortana-powered bar in Windows 10, and only works on machines running Windows Vista or later.
Version 3.0 also updates a number of updates to ensure the packs emulate the latest look showcased in Windows 10 build 10049 -- these include updated screen wallpapers and Start menu color scheme. In addition, the Transformation Pack also gains updated system resources: logon screen, system icons, system tray icons and Toolbar buttons.
Fixes including resolving the .NET Framework requirement for the Start menu feature as well as ensuring the Start orb gets updated after installing. Also fixed is a problem that prevented the configuration file from working after an update.
Both Windows 10 UX Pack 3.0 and Windows 10 Transformation Pack 3.0 are available now as a freeware downloads, and work with Windows XP or later.