Harman/Kardon Nova is bright [Review]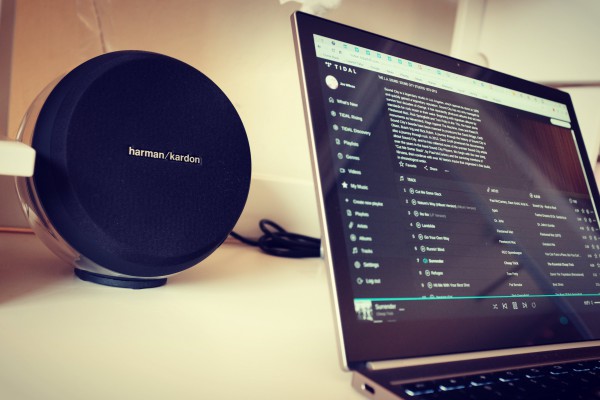 My daughter's cat Cali loves to chew cords—a habit we will eventually break. Meanwhile, it's good excuse to invest in new wireless speakers that diminish some of the cord clutter. Our 20 year-old also is moving home for the summer, putting more wires at risk and necessitating some speaker swaps. She takes my Harman/Kardon SoundSticks, which subwoofer meets her requirement for thumping bass; I don't need it and switched to a space-saving, cord-reducing duo set.
Spectacular sound is my description for Harman/Kardon Nova, which deliver rich treble, magnificent highs, fine detail, and more-than-adequate bass for the kind of kit. Separation and soundstage are bold—dynamic! The speakers are best appreciated when matched to the right source. I stream from lossless leader Tidal on Chromebook Pixel LS, connected via Bluetooth. The combination is immensely enjoyable and makes me happy while working, which boosts the quality and speed of my productivity.
For Whom?
Let's start with who these speakers are for and not. Sound source is everything and should be first consideration buying any set, particularly when cash outlay is $299.95.
Nova is right for you if:
You need fine sound in a two-speaker set
You aren't overly obsessed with thumping bass
You listen to CDs or music from lossless sources
You want wireless connectivity from one or more devices
Nova is not for you if:
You mostly listen to low-bitrate, compressed music
You demand window-rattling and floor-shaking bass
You need to place the speakers in a fairly confined space
To reiterate: I can't emphasize strongly enough just how satisfying is the sound, particularly midrange and highs. My wife doesn't have my discerning ear, but she remarked about the music streaming from Tidal this morning, while I shot photos of the Nova. I had pulled up the service's homegrown playlist "The L.A. Sound: Sound City Studios 1970-2013" and Dr. John song "Iko Iko" played. She asked about the track, and I told her that it is from the 1970s. "It sounds current", she said. Yes!
The song does feel current streaming lossless through Nova. The product name is appropriate because sound is bright, a quality more associated with treble; not bass. That's not to say the latter is absent. The speakers are surprisingly bassy for a duo-set without subwoofer. But the overwhelming attribute: Harman/Kardon Nova is bright.
Super Nova
I first purchased Nova from Amazon Warehouse about a month ago, only to return them same day received. Open-box items are always risky. The cord that connects the two speakers was damaged. Unable to find the set anywhere locally, I purchased again from Amazon, but new, at full price.
Unboxing the kit surprises, because the speakers are enormous, something not necessarily obvious from the Harman/Kardon website, which doesn't provide dimensions along with other specs. I wrongly assumed smaller size because of the partial dome shape. Go to your local fruit stand and survey melons (small honeydew or regular cantaloupe) for comparison. Amazon states that each speaker measures 21.59 x 46.7 x 17.27 cm (8.5 x 18.4 x 6.8 inches).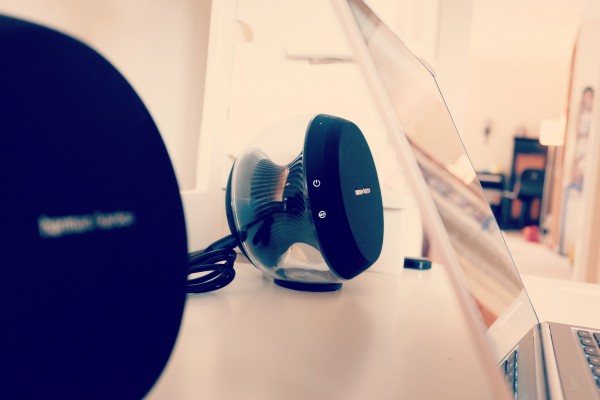 Setup is simple. Connect the two speakers with one cord and plug another into your electrical source. There are no protracted buttons, but touch-sensitive controls for power, volume, Bluetooth, NFC, and bass located on the right-speaker's rim. Touch response requires too much learning curve. Muscle memory eventually solves any insensitivity hiccups. But initially, just powering on or off the Nova frustrated me.
Part of the problem: The main controls are reversed. They are designed for lefties, not the majority of people who are right-handed. Meaning: Power and bass buttons are inconveniently placed on the left rim of the right speaker. These controls are more likely to be frequently accessed than Bluetooth or NFC, which would be better on the left. I attribute my touch-sensitivity problems to design more than device function.
Either Bluetooth or NFC work well, at least in my testing, using Chromebook Pixel LS for the one and Nexus 6 for the other. You choose your connectivity option from (argh) right-rim controls. Wireless streaming to Nova is pure and, in my testing, free from disconnection or disruption.
Besides wireless, there is the standard 3.5 mm audio jack and an optical out port. Yes, you can connect Nova to your TV, using the latter. But the speakers are not remote-control enabled, which makes them a nuisance to use. My Vizio telly has never sounded better—all for 5 minutes. Adjusting the volume is too much trouble.
Sound Quality
Annoyance: Nova produces several different overly-loud beeps when wirelessly connecting or disconnecting to a device. I accept the nuisance, because the aural benefits are so great. But many users may find the beeps to be a deal breaker.
The volume control is located across the right speaker's top rim. Spaced lights indicate how high. The bass control offers mixed benefit. To my ears, overall sound is well-rounded enough—even for the lows. The bass option adds punch to some songs but not to others. The booster is there if you want it, but many listeners looking for brighter sound may not need it.
Harman/Kardon claims 80 watts of power—from twin 20-watt each tweeter and woofer. Melon size means large sound to match.  Stated frequency response is 70-20KHz, while signal-to-noise ratio is 85dB. I detect no hissing or other unwelcome background defects other than the aforementioned beeps.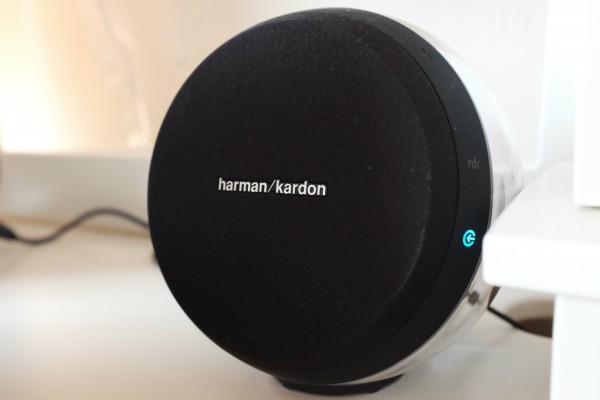 Nova easily fills my bedroom office with pleasing bright, boomy separation and soundstage, whether listening to music or watching videos. Again, all the content is streamed from online services; like HBO GO, Tidal, or YouTube.
The major problem with Nova is finding one to test. None of my local stores sell the speakers. I purchased based on my past good experience with four generations of SoundSticks (I, II, III, and wireless). If there is opportunity, you really should see just how large are the melons and hear how surprisingly satisfying they sound.
Nova won't be everyone's brightest star in the aural firmament, but it could be for you.
Photo Credits: Joe Wilcox