View hundreds of retro graphics formats with RECOIL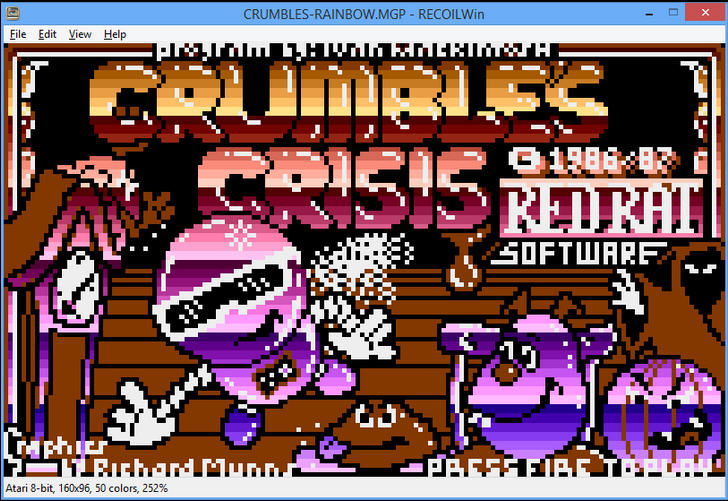 Viewing images is easy these days. No matter which platform you're on, or what application you're running, just about everyone uses the same standard formats, and these can typically be displayed on your device's native viewer, with no need to install anything else.
In the early days of computing, 30+ years ago, it was different. There was no JPG, no PNG, so companies like Atari and Commodore had their own graphic formats. Even these weren't fixed, with new variations all the time, which makes it very difficult if you'd like to view any of them on a modern computer.
RECOIL -- Retro Computer Image Library – is a free collection of tools which can display hundreds of formats from all the major computers of the day: Amiga, Amstrad CPC, Apple II, Atari 8-bit, Atari Portfolio, Atari ST, Atari Falcon, BBC Micro, Commodore 16, Commodore 64, Macintosh 128K, MSX, SAM Coupé, ZX81 and ZX Spectrum.
Installing the package on a PC gets you a simple GUI viewer, RECOILWin. This is extremely basic -- no thumbnail browsing, no rotation or anything else -- but there's the core functionality you need: back/ next, zoom in and out, and -- if you'd like to use the image elsewhere -- the ability to copy pictures to the clipboard or save them as PNGs.
A bundled thumbnail provider for Windows Explorer means you're able to see previews of supported formats without loading RECOILWin directly.
There are also plugins for many other image viewing and processing tools (Paint.NET, ImageMagick, XnView, Imagine), along with a portable command line image converter, an HTML 5-based viewer, an Android application and more.
The core RECOIL engine is available itself in the "Formats" IrfanView plugin, so if you've installed that already you probably don't need the stand-alone build. But otherwise this is a great collection of tools for viewing early computer graphics. Recommended.