How to upgrade from Windows 7 or 8 to Windows 10 via Windows Update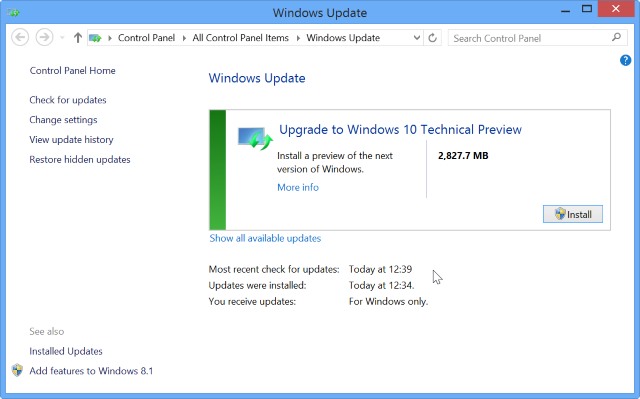 If you like the idea of trying out the next version of Windows before it is officially launched, Microsoft has made the Windows 10 Technical Preview available for everyone to use. There are various ways to get the preview installed on your computer, but since the release of build 9926, it is possible to upgrade your current Windows 7 or Windows 8 installation to Windows 10 using Windows Update.
This is a much simpler option than downloading the ISO image, but it is an upgrade route that almost encourages people to install the preview build on their everyday computer -- don't forget that this is not a finished product! We've already looked at how to install Windows 10 in a virtual machine, but if you have a spare machine running Windows 7 or 8, using it as a test bed for Windows 10 just got a whole lot easier.
Although you can download Windows 10 Technical Preview build 9926 through Windows Update, it will not show up by default. First of all you need to install a small update which you can download from the Technical Preview page -- head to this page and click the 'Start upgrade now' button. Take note of the warnings on this page. Although the option to upgrade through Windows Update makes the whole process easier, the page is littered with warnings such as "this is prerelease software", and the more strongly worded:
Remember, trying out an early build like this can be risky. That's why we recommend that you don't install the preview on your primary home or business PC. Unexpected PC crashes could damage or even delete your files, so you should back up everything.
If you're happy to proceed, just run the executable you've downloaded. You may find that Windows Update launches as soon as this installation completes, but if not you should restart Windows and launch Windows Update manually. Perform a check for new updates and rather than the usual patches and fixes, this time you will find that you are offered the Windows 10 Technical Preview as an update.
Hit the Install button and sit back and wait while the download completes and the installation begins.