Windows 10 upgrades: Microsoft gives with one hand and takes with the other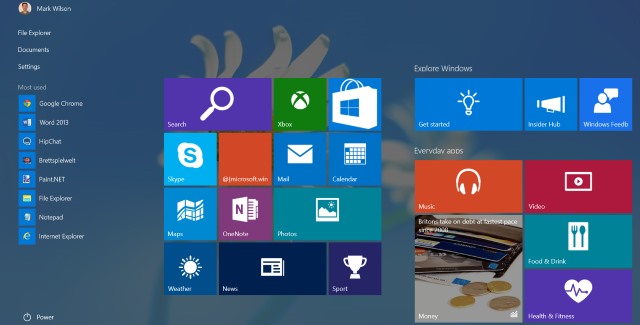 We now know that there are less than two months to wait until Windows 10 is launched. If you have been working your way through the preview builds, you'll already have a pretty good idea of what to expect in terms of new features -- Cortana, Start menu, notification center, virtual desktops, Continuum, cross-device experience, Microsoft Edge and so on -- but what about the things you're going to lose when upgrading from Windows 7 or Windows 8.1?
The delivery of Windows 10 is not just about bringing new features and tools to desktop, tablets, and laptops; there are also a number of things that are simply going to disappear. Not all of this will matter to everyone, but the stripping out of certain features will come as a blow to some, and it's best to be prepared ahead of time.
Microsoft reveals the details of everything that will be either cut or replaced and one of the first, and biggest, victims is Windows Media Center. This is not new news, but you'll still have to hunt around for an alternative if you are making the jump to Windows 10 and have come to rely on the tool. Relatedly, DVD playback is also being stripped out. That's not to say that DVDs can't be watched in Windows 10, but third-party software will be required.
For Windows Home users, the process of keeping Windows 10 up to date is being taken out of their hands -- Microsoft wants to ensure that everyone is kept completely up to date as quickly as possible. To this end, automatic updates are now the norm for Home users and there is no way to change this. Microsoft does say, however, that "Windows 10 Pro and Windows 10 Enterprise users will be able to defer updates".
Windows 7 desktop gadgets get the chop, as do Solitaire, Minesweeper, and Hearts Games -- although Microsoft Solitaire Collection and Microsoft Minesweeper are available to download as replacements. If you have OneDrive installed as part of Windows Live Essentials, this will be replaced by the built-in version in Windows 10 (so nothing is really lost), and for anyone still rocking a USB floppy drive, you'll need to take the time to download the necessary drivers if you want to continue working with it.
Many of the new features of Windows 10 have limitations on them -- not everything will "just work" out of the box. Cortana is not available globally, and the same is true of Xbox music and video streaming. In order to take advantage of Windows Hello you'll need a "specialized illuminated infrared camera for facial recognition or iris detection or a finger print reader which supports the Window Biometric Framework".
Full details of deprecation and limitations can be found on the Windows 10 specifications website.