Firefox gains Reader View, adds screen sharing capabilities to Hello chat tool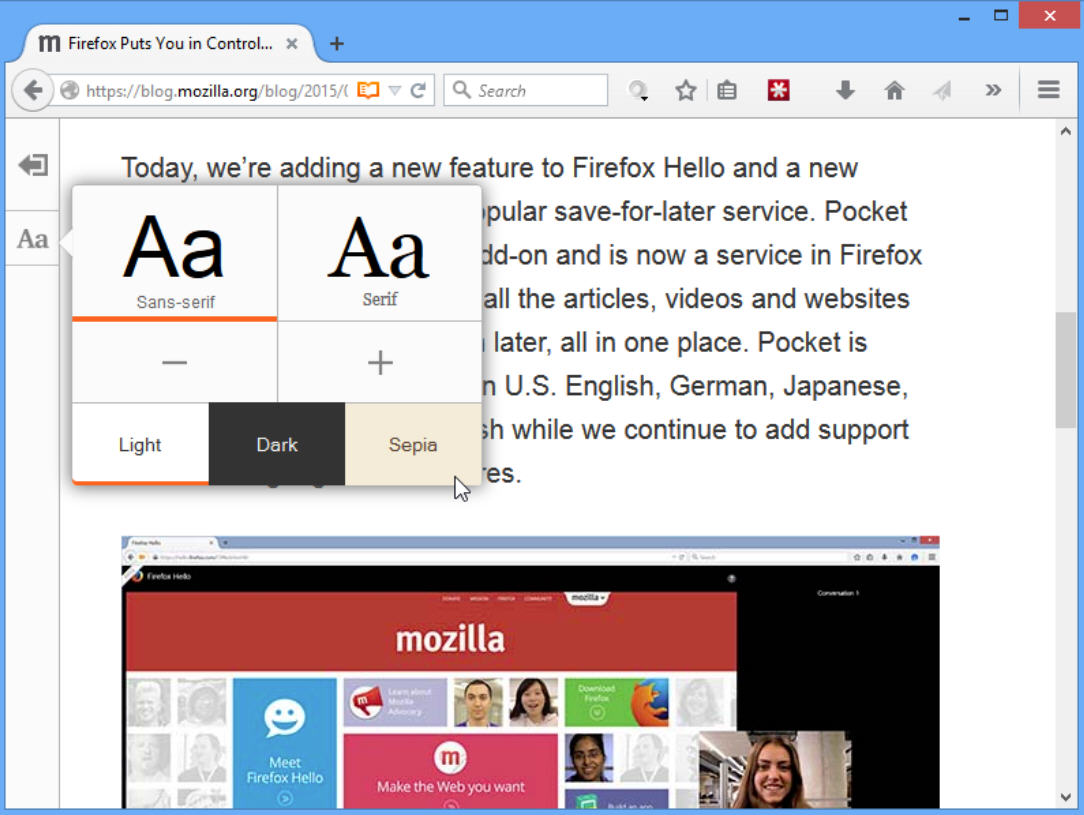 Mozilla has unveiled Firefox 38.0.5 FINAL for desktop and Firefox 38.0.5 for Android, the second time the browser has released a major interim update since switching to a rapid-release cycle back in 2013.
The new desktop build contains three major items of interest: a new Reader View, integration with the Pocket offline reading service, and improvements to Firefox's Hello chat tool.
Firefox 38.0.5 opens by debuting a new Reader View, which provides a distraction-free view of supported web pages and blog posts. This works by stripping out unnecessary formatting to provide a reader-friendly, uncluttered view. Users should look for a book-like icon in the Address bar to the right of the site address on supported pages -- click this to enter Reader View.
Users can then customize this view by clicking the "Aa" button to the left to choose font type (serif or sans serif), font size and color scheme: light (default), dark or sepia.
Another new feature is integrated support for the Pocket save-for-later service. Previously available as an add-on, Pocket is now provided as a service in selected Firefox Accounts -- US English, German, Japanese, Russian and European Spanish are all currently supported.
The final new feature sees Firefox's chat tool Hello gain a new feature: screen sharing. Users can now select any active tab or application window and opt to share it with their chat partner.
Firefox 38.0.5 FINAL also gains two notable bug fixes: one that stops Firefox to stop painting when switching tabs, and another that fixes graphics performance when using Windows 7's built-in VGA driver.
The Android update is less impressive, gaining an integrated Adjust SDK to measure aggregate app installs, and the promise of several unspecified stability fixes.
Firefox 38.0.5 FINAL is available now for Windows, Mac and Linux as free, open-source downloads, while Firefox 38.0.5 for Android is also available.