Bose announces Bluetooth SoundLink Mini speaker II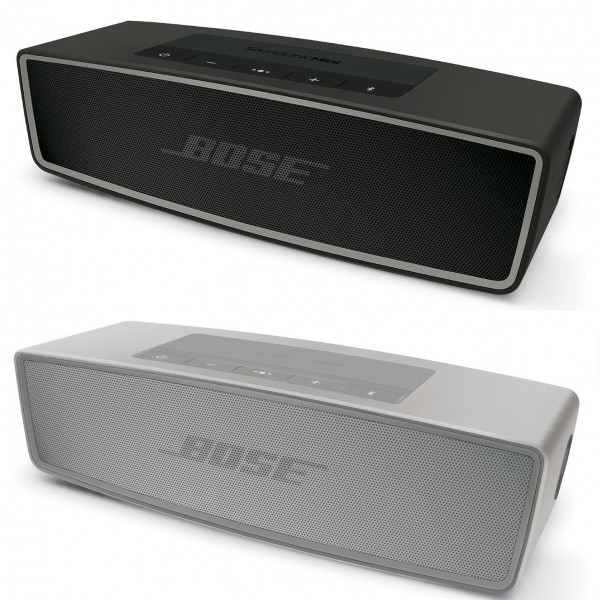 Bluetooth speakers are very popular nowadays, and for good reason. Not only are they convenient, but usually portable too, meaning you can take your music anywhere. Unfortunately, there is one major downside -- they often have terrible sound quality. The market is flooded with such garbage, so it can be easy to buy a lemon. How do you avoid such a thing?
Luckily, for the most part, you can depend on some known brands for a quality listening experience. One of those brands is the venerable Bose. While the brand is often expensive, you can be sure that your money will be well spent. Today, the company announces the all-new SoundLink Mini Bluetooth Speaker II -- a second-generation update to its wildly adored speaker.
"The new SoundLink Mini speaker II is still Bose's smallest Bluetooth speaker, keeping the compact footprint and size of the original -- weighing 1.5 pounds and measuring just 2.0 inch H x 7.1 inch W x 2.3 inch D. It features its iconic anodized aluminum housing that resists scratches and fingerprints, and includes an updated beveled accent and a micro-perforated steel grille. The same sound that redefined the Bluetooth speaker category remains at the heart of the new SoundLink Mini speaker II, and it's patented and exclusive to Bose. Proprietary dual-opposing passive radiators combine with two custom-designed, high-efficiency transducers to deliver full, clear audio, with dramatically deep low notes. Turn the volume up or down -- Bose digital signal processing optimizes the audio output for balanced sound at any listening level", says Bose.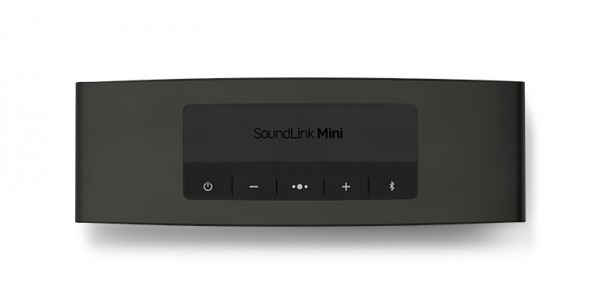 The respected manufacturer also says, "the SoundLink Mini speaker II has a built-in speakerphone, so taking calls out loud -- and hearing every word clearly -- just takes a press of a button on the top of the speaker. When you're done talking, music resumes automatically. You can connect two Bluetooth devices at a time, letting you play music or any content from your phone and tablet. And pairing has never been easier. New voice prompts streamline the process, walking you through the simple steps to connect to a mobile device, and identify your devices by name using text-to-speech. The SoundLink Mini speaker II stores the eight most recently used Bluetooth devices in memory, eliminating the need to pair again".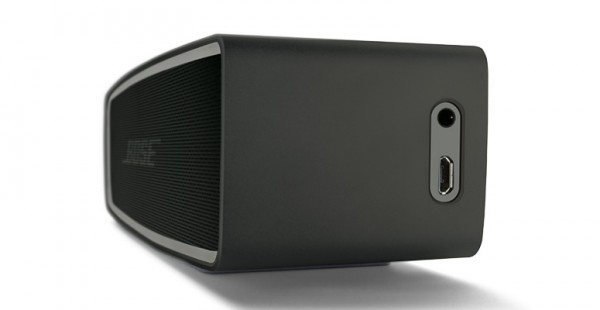 If you want to use the SoundLink Mini speaker II with a non-Bluetooth device, this is totally possible. As you can see in the above image, it has a 3.5mm input.
Bose promises 10 hours of battery life between charges, meaning it will be great for parties. It comes with a charging dock too, so if you have an outlet, you can party non-stop!
Unfortunately my dear audiophiles, Bose does not list any audio specifications. With that said, the best way to know the quality is to experience it yourself. If you are interested, you can visit a store such as Best Buy to try it yourself or wait for some reputable reviews. Based on past experiences with this brand, it is safe to assume that it will be exceptional.

While the speaker only comes in white (pearl) or black (carbon), you can jazz it up with a colored protective case as seen above. If I had to pick a combination for myself, I'd probably go with a white speaker and red-trimmed case -- sexy!
So how much will this cost? It is very reasonable at $199.95 -- the same as the previous gen. Many lesser brands command similar pricing, so this is very competitive coming from such a legendary company.
The Bose SoundLink Mini speaker II will not start shipping until June 17th, but you can pre-order it here now.