Microsoft Universal Foldable Keyboard now available -- brings Surface typing to all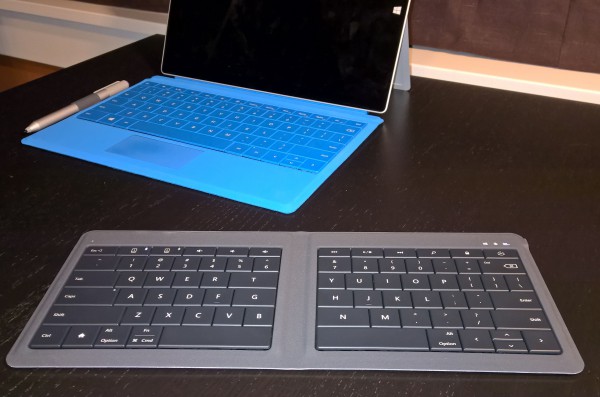 Microsoft makes damn good hardware. The Xbox One and the Surface Pro 3 are works of art, beloved by many. Hell, even its peripherals, such as keyboards, mice and webcams are mostly winners.
One place where it doesn't shine, however, is the Surface Type Cover keyboard. I can get by with it when on the go, but I would certainly prefer a big beautiful mechanical variant for heavy lifting. If you do like the Type Cover, and have wanted to use it on your other devices, today is your lucky day. The Windows-maker announces the Universal Foldable Keyboard. Guess what it is? It is a universal keyboard... that is foldable. The keys and design are very reminiscent of the Surface Type Cover -- but do consumers really want that?
"Back in March, we announced the new Microsoft Universal Foldable Keyboard – the super portable and ultra-thin lightweight keyboard designed to work with virtually any of your devices. Today, we're excited to announce that the Microsoft Universal Foldable Keyboard is now available at the Microsoft Store and various other retailers starting at $99.95", says Brandon LeBlanc, Microsoft.
LeBlanc further says, "the Microsoft Universal Foldable Keyboard also comes with a built-in rechargeable battery which gives you up to 3 months of usage on a single charge. So when you need to charge it simply connect it to your PC using the micro USB cable included in its packaging".

The foldability (is that a word?), ability to easily switch between devices and long battery life could make this a great option for travelers. I am a bit concerned, however, with the style of keys and spacing between the two sides. The keys themselves are of different sizes -- look at the "N", "G" and "T" keys -- it could be a recipe for typos. Even more worrying, the delete and backspace keys have been combined into one, with the function key converting it to delete.
If you are willing to overlook some of these potential issues, you can buy it for $99.95 here. Tell me your thoughts in the comments.