Lenovo's ThinkPad P50 and P70 laptops have Windows 10 and Linux configurations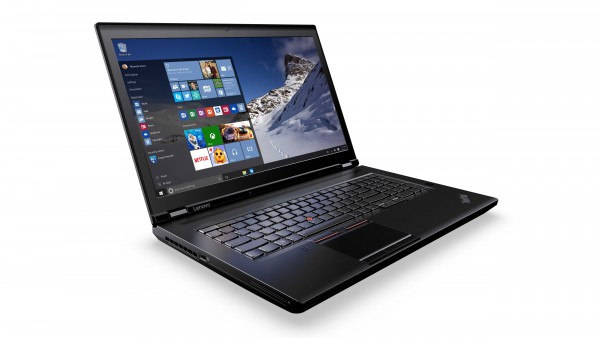 When it comes to laptops, there is one word that conjures visions of quality like no other -- ThinkPad. Yes, the branding made famous by IBM and carried on by subsequent owner Lenovo, is an indicator to consumers and businesses that a laptop is worthy of their dollars. While not every ThinkPad branded product has been a home run, buying one rarely results in disappointment.
Today, Lenovo unveils the latest laptops to carry the prestigious branding -- the ThinkPad P50 and P70. Both computers run Windows 10 and have impressive specifications. Are one of these notebooks in your future?
"Designed for high-end professionals in industries ranging from media and entertainment to oil and gas, the Lenovo ThinkPad P70 introduces a 17-inch mobile workstation to the ThinkPad family. The new offering comes packed with the most memory and storage ever found in a mobile workstation. The ThinkPad P70 is loaded with up to 64GB of DDR4 ECC memory and the ability to handle up to four storage devices and up to a terabyte of SSD storage, utilizing the latest PCIe technology for speeds up to five times faster than current SATA technology. Additionally, the ThinkPad P70 comes with two Intel Thunderbolt 3 ports for ultra-fast connectivity and a 4K UHD display or optional FHD touch", says Lenovo.
The popular manufacturer further explains, "the ThinkPad P50 features a beautiful 15.6-inch UHD 4K display and is certified to run users' most requested ISV applications. The ThinkPad P50 is a feature-rich, highly powerful mobile workstation for performance-seeking users. As the follow-on to the ThinkPad W541, the P50 builds on the innovation and purposeful design of Lenovo's industry-leading ThinkPad mobile workstations".
You can see the specs of both machines below.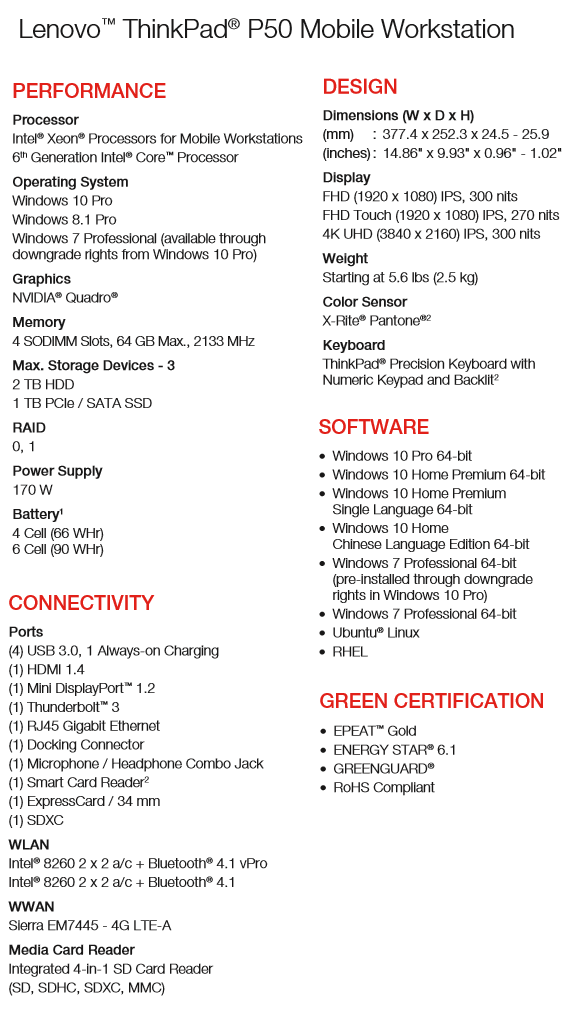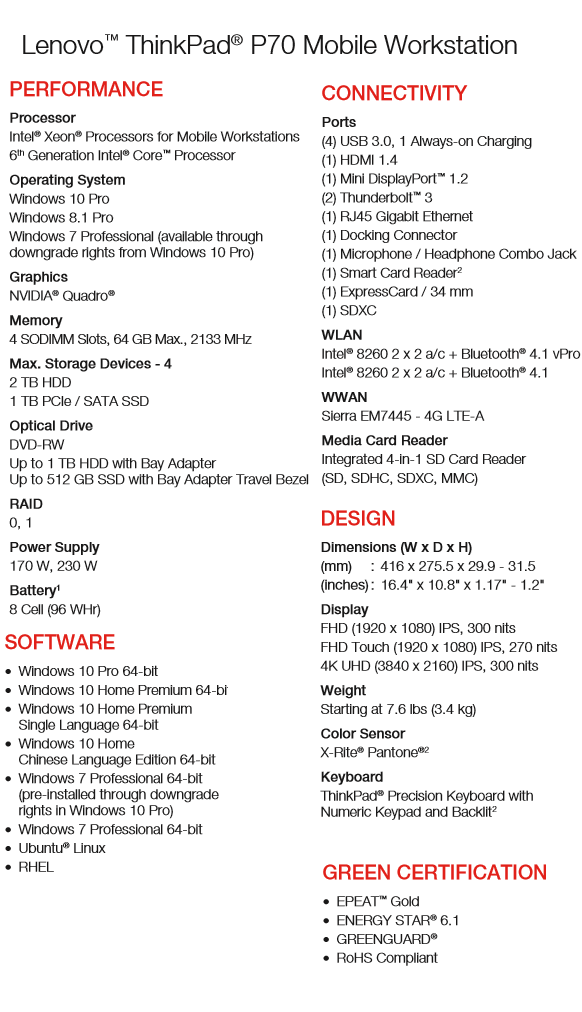 Both laptops are great for road warriors, as they have been tested for, and meet or exceed, military requirements. In other words, if you do drop your ThinkPad, it should be more durable than the average machine.
While many business users will want to opt for Windows 7 for now, Windows 10 is available too. More exciting, however, is that Linux-based operating systems are optional as well. Red Hat Enterprise Linux and Ubuntu can be configured to meet your needs.
For all of these great specs and features, you will have to pay the price. The P50 starts at $1,599, while the P70 starts at $1,999. While that is a bit expensive, you get what you pay for -- these machines should last a long time.
Which ThinkPad will you buy? Check out the images below, and tell me in the comments.
ThinkPad P50
ThinkPad P70