Google announces $200 OnHub wireless router -- but why?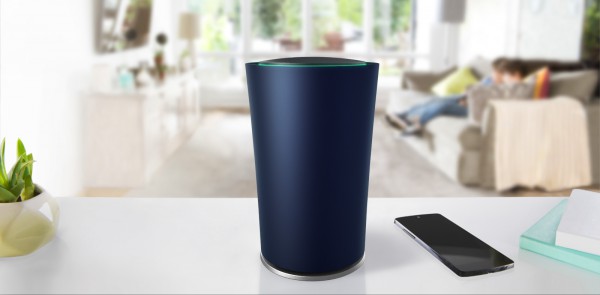 Wireless routers are rather ubiquitous nowadays. Many homes and businesses have them installed, making connecting to the internet a fairly mindless affair. They have even dropped in price -- a solid router can be had for under $50, while some ISPs give them to users at no charge.
With that said, why the heck would Google expect people to pay $200 for a rather basic router? Today, the search giant announces OnHub -- a run-of-the-mill TP-Link router, without external antennas, for an insanely high price. Don't get me wrong, some routers are worthy of the money, but surely not the Amazon Echo design-inspired, OnHub.
"Ugh...not again. You get home at the end of the day, and sit down to stream a new movie or upload vacation photos -- and your Wi-Fi slows to a crawl or just stops working. Instead of relaxing in front of the screen or sharing those photos with friends, you spend it unplugging and re-plugging cords, trying to decipher blinking lights, or contemplating a call to customer support", says Google.
The search giant further explains, "while we count on Wi-Fi more than ever to be entertained, productive, and stay connected, we're streaming and sharing in new ways our old routers were never built to handle. So today, with our partner TP-LINK, we're launching OnHub, a different kind of router for a new way to Wi-Fi. Instead of headaches and spotty connections, OnHub gives you Wi-Fi that's fast, secure, and easy to use".
As you can see in the above video, Google seems to paint a picture where setting up a router is painfully difficult and they are constantly dropping connections. Maybe that was the case a decade ago, but quite frankly, modern routers can be configured fairly easily and offer dependable service.
Google touts the benefits of having an app that can monitor the router, but that is not new -- many router manufacturers offer such a thing. Luckily, Google is supporting both Android and iOS.
Google explains the benefits of the app by saying it "tells you how much bandwidth your devices are using, lets you run a network check, and if there's an issue with your Wi-Fi, the app offers suggestions to help. And, instead of lost passwords and sticky notes, it even reveals your password with a single tap and lets you text or email it to friends".
Why the heck does Google think the world needs this? Emailing my router password in plain text to friends? No way.
The search giant promises to roll out more 'OnHub' routers in the future, and mentions ASUS as a partner. This comes across as an attempt by Google to control router software.
The problem is -- and I'm not a conspiracy theorist -- I don't know that I want Google controlling my router software. The company already has access to my search history and email -- this sort of crosses a line. Let's not forget how disastrous Android has been from a security standpoint lately -- maybe Google should focus on that operating system instead.
If you want to buy this thing for some reason, you can pre-order now at the Google Store, Amazon, and Walmart.com.
Will you buy this router? Tell me in the comments.