'Hey Siri, give us a hint' -- what does Apple's 9 September event have in store for us?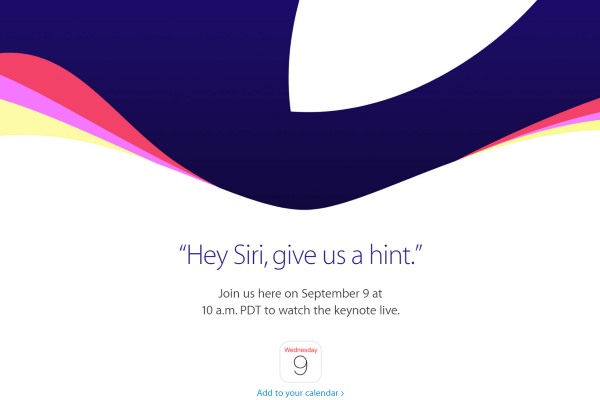 Apple has sent out media invites to an event on 9 September. Widely expected to see the launch of the iPhone 6s and iPhone 6s Plus, the event takes place at the Bill Graham Civic Auditorium in San Francisco at 10 am PDT.
The invitation itself gives little away, but it does include artwork that will undoubtedly feature on the big day, as well as the intriguing tagline 'Hey Siri, Give Us a Hint'. So does Siri have the answers? Tell us about the new iPhone!
No. It is, of course, a big tease. As Mac Rumors shows -- and you can test for yourself -- Apple is trying to tickle our funny bones with some humorous responses from its digital assistant. Pose the question and Siri will reply with one of several witty quips: "You'll have to wait until 9 September. I bet you were one of those kids who snuck downstairs to open presents early, weren't you?", "You're cute when you're desperate for information". You get the idea.
As ever, Apple has been tight-lipped about what we'll see at the event, but the s update to the iPhone range is expected: the iPhone 6s and iPhone 6s Plus are all but guaranteed to make an appearance. Other likely contenders include updated versions of OS 9, OS X El Capitan, and Watch OS 2.
A holding page is already in place for the live stream of the event -- something that can be enjoyed not only by those with an iPad, iPhone or Mac, but also a PC running Edge in Windows 10. Yep -- Apple supports Microsoft Edge!