Microsoft Surface 3: Interesting but flawed [Review]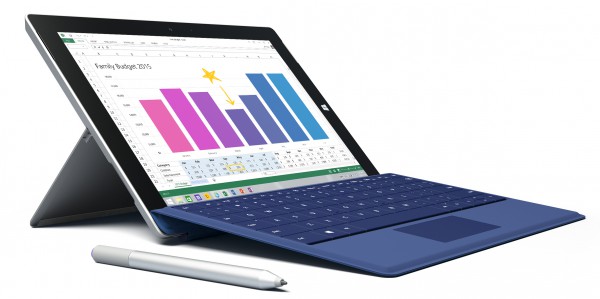 "You can't get there from here". That's how many customers must feel as they ponder the broken Windows 10 upgrade path for first-generation Windows 8 hybrid PCs. With Intel refusing to update the Atom z2760 video driver, and with existing Windows 8.1 drivers providing spotty compatibility, these early adopters are at a crossroads.
Do they stick with Windows 8.1 and watch while the bulk Microsoft's development effort goes into Windows 10 (leaving them clinging to an all but abandoned OS platform)? Or do they bite the bullet and begin vetting potential replacements for their still functional HP Envy x2s, Lenovo ThinkPad Tablet 2s, Dell Latitude 10s, etc?
Surface Tension
As an Atom z2760-based user myself, I feel their pain. I've tried to get my Envy x2 to work reliably under Windows 10, but to no avail. So rather than cling to the slim hope that someday Intel will relent and produce an updated driver, I've decided to begin actively exploring upgrade paths for Windows touch-first early adopters like myself. And the first platform I elected to assess was Microsoft's own Surface 3 hybrid tablet/laptop.
The irony of focusing on a product created by a company that shares at least some responsibility for my current dilemma (Microsoft could have pressured Intel to expand its Windows 10 support matrix) is not lost on me. However, objectivity dictates that I seek out the best alternative regardless of my feelings towards the company. And in this case, the Surface 3 seemed -- on paper, at least -- to be an excellent choice.
Thin, light, fan-less, with all day battery life, the Surface 3 matches up well against the list of operational prerequisites that drove sales of those first generation Windows 8 hybrids. However, in practice, the device comes up short in a number of areas that could be of import to enterprise customers and end users alike.
For example, while the Surface 3 is indeed a lightweight device, it's not significantly lighter (1.4lbs vs. 1.5lbs) than my outgoing Envy x2 -- at least when used as a tablet. When used at a laptop, with the Type Cover attached, the Surface 3 bests my aging Envy x2 by a full pound. However, the comparison isn't entirely fair since the Envy x2's keyboard dock provides a second battery, two full-sized USB ports, a full-sized HDMI port, and a full-sized SD Card reader (to complement the micro-SD card slot in the tablet portion), along with an island style keyboard that I tend to prefer over the Surface 3's rather cramped arrangement.
Basically, by moving to the Surface 3 I'll be sacrificing a USB port, a second battery (which extends the Envy x2's battery life to 14 hours+), and an SD Card reader while further complicating my video out options by switching an HDMI port for the Surface's mini Display Port connection. Add to this the fact that I'm also losing the ability to use the device as a true laptop (the Envy x2's base unit creates a classic clamshell configuration that is deliberately Macbook-like in appearance), and I can't help but look at the Surface 3 as a step backwards in overall hardware flexibility.
Now to be fair, the Surface 3 includes some significantly upgraded internals when measured against any Atom z2760-based device. The processor itself is a much more sophisticated design and runs rings around the dated SOC in my Envy x2 (53+ points in JetStream vs. just 22+ for the HP unit). Also, the display sports a higher resolution (1920x1200 vs. 1366x768) and features the desirable 3:2 aspect ratio, like the Surface 3 Pro. The USB port is faster (3.0 vs. 2.0), and the lone micro SD Card reader can handle higher-capacity (128GB vs. 64GB) cards, somewhat mitigating the Envy x2's two-reader advantage.
Note: I'm not factoring the Surface 3 docking station in the above equation because it's a separate purchase and merely replicates (in a non-portable way) functionality already built-into the HP design.
Buyer's Remorse
So the Surface is again, on paper at least, the superior device. However, after buying a Surface 3 bundle from Costco ($699.00 for the 4GB/128GB model with black Type Cover and Surface Pen), I discovered a number of intangibles that leave me pining for my Envy x2.
First, there is the issue of build quality. Say what you will about the Envy x2's weight (3lbs+) as a laptop, the device is built like a tank. The outer shell is all aluminum, and after nearly 3 years of abuse, including several drops and one complete digitizer replacement, it's still going strong. By contrast, the Surface 3 just feels flimsy to the touch. As I type this on my Surface 3, I can't get over the amount of rebound generated by Type Cover in the angled "deck" configuration. The whole thing flexes rather disturbingly, and the track pad seems to wobble all on its own (a check of demo units at the local Best Buy lead me to believe I got a bad one with my bundle). Frankly, I've received less feedback from the mattresses in a cheap motel.
And then there's the delicate matte finish of the VaporMg shell. After just 48 hours of use I was already noticing  permanent wear marks forming where I hold the device when closed against the Type Cover (see photo). If this is what happens when I tote the device around for just two days, I can only imagine what it will look like in six months or a year. Once again, aluminum wins the day.
In conclusion, there's no question the Surface 3 is an interesting product. For Windows enthusiasts, one might even call it an aspirational device (though Apple has sort of cornered the market on that term). But when evaluated as a direct replacement for the previous generation of Windows 8 hybrid PCs, it comes up short in terms of flexibility and build quality/durability.
Frankly, Microsoft should have gone with aluminum for their enclosure, and perhaps thrown another USB port on the device to give it more flexibility. Both of these changes would have made the device much better suited to the demands of all-day enterprise computing.
As for me, I'll be returning my Surface 3 to Costco, since it simply doesn't deliver equivalent functionality to my HP Envy x2. Here's hoping Microsoft gets it right the next time around.
Photo Credits: Microsoft (top); Randall Kennedy