Acer pulls down the top on new convertibles, running Chrome OS and Windows 10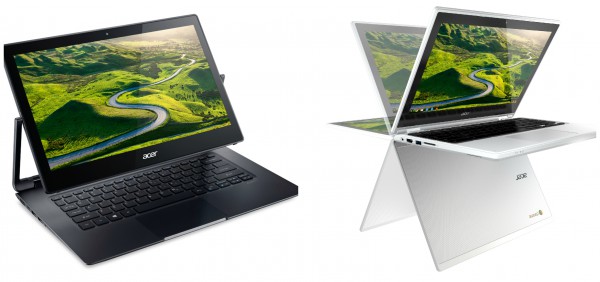 Today, at IFA in Berlin, Acer unveiled its first convertible Chromebook and updated the Windows counterpart, which gets 6th-generation Intel Core processors and USB 3.1 Type-C port. The two computers join a surprising assortment of new gear, including gaming notebooks and tablets and smartphones.
The Chromebook R 11 Convertible comes in consumer and commercial models. Base specs: 11-6.-inch display (1366 x 768 resolution); 1.6GHz Intel N3150 or N3050 Celeron processor; 2GB or 4GB RAM, 16GB or 32GB SSD; Intel HD graphics; webcam; USB 3; WiFi N; and Chrome OS. Weighs 1.25kg (2.76 pounds). There are four modes of operation, depending on positioning: display, laptop, pad, and tent.
The Aspire R 13 Convertible offers superior hardware by many measures. Base specs: 13.3-inch display, with either 2560 x 1440 or 1920 x 1080 resolution; 2.3GHz i5 6200U or 2.5GHz Core i7 6500U processor; 4GB or 8GB memory; 256GB to 1TB storage; Intel HD Graphics 520; webcam; USB Type-C; Wifi N; and Windows 10 64-bit. Weighs 1.6kg (3.53 pounds). Battery life 8 to 10 hours, depending on model.
The R 11 goes on sale next month in the United States, starting at $299. Everyone else can buy in November, when prices will start at €299. The R 13 will be available in October with prices starting at $899 here and €1,099 across Europe, the Middle East, and Asia.