ASUS ROG G20CB gaming PC has Intel Skylake Core i7, GeForce GTX 980, and Windows 10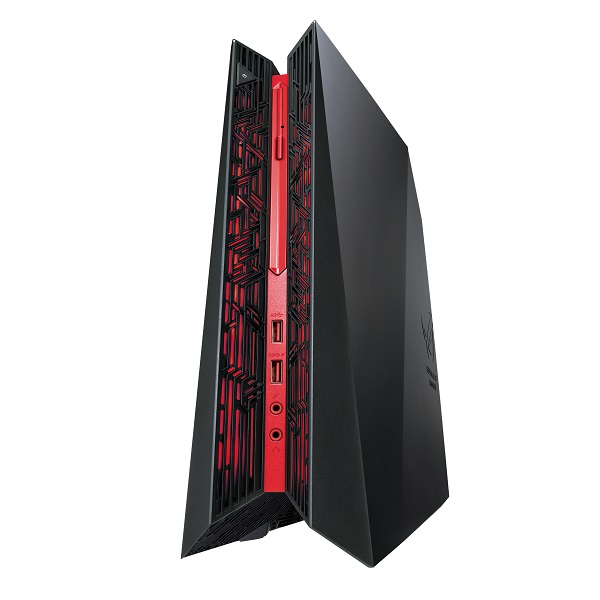 There is a big place in my heart for gaming PCs. Unfortunately, there isn't a big place in my home for one. As more and more people share homes with their extended family (damn, economy!) space can be an issue. Zotac recently announced a small gaming PC, showing that it is possible to have a small footprint, which is very cool.
Today, ASUS announces the ROG G20CB -- a refresh of the existing G20. While not diminutive, it is certainly svelte compared to conventional towers. The specs look incredible, as it features an Intel Skylake Core i7 and NVIDIA GeForce GTX 980 4GB. Other configurations are available too, of course, and AMD fans can opt for a Radeon R9 380.
"ROG G20CB is designed to be a one-stop gaming and entertainment system. Its 9.5-liter chassis houses a 6th-generation Intel Core i7 processor and NVIDIA GeForce GTX 980 graphics. The former delivers a 10 percent performance boost and 23 percent more efficiency over previous-generation Intel processors to give ROG G20CB the power to take on the most demanding of tasks, allowing users experience today's games at their highest settings. NVIDIA GeForce-powered graphics draws gamers into an immersive world of colors and 4K/UHD resolution visuals; it even supports output on up to three HD displays, while a fourth display can be added via a HDMI connection", says Asus.
The company also shares, "cooling performance is often an issue when it comes to small-form-factor desktops, and the G20CB's use of high performance components requires exceptional thermal management to ensure stable performance for gaming marathons. Despite its compact 9.5-liter chassis, ROG G20 is designed with no visible exterior side exhaust vents, and features an integrated thermal design that takes advantage of natural convection. It has a hidden airflow channel that ensures efficient heat management, while two internal fans and copper pipes further help dissipate heat. G20 isn't just powerful; it runs whisper-quiet at just 22dB at idle -- quieter than a typical library".
The chassis is absolutely gorgeous -- the red and black color scheme should be attractive to the average gamer. With that said, it is stylish too, meaning it would not look out of place in an executive's office or at a local LAN party.
Price and availability are not yet known, but the degree to which your wallet will be hurt depends on configuration. Obviously, a Core i7 is most desired, but depending on your needs or budget, a Core i3 or i5 could be fine. Quite frankly, a Core i5 and R9 380 will probably be the best bang for your buck.
Check out the specs and available configurations below. How would you configure it? Tell me in the comments.
Processor
6th-generation Intel Core 'Skylake-S' i3/i5/i7 processors
Operating system
Windows 10
Chipset
H170
Memory
4GB, upgradable to 32GB Dual Channel DDR4 at 2133Mhz – 2 x SO-DIMMS
Graphics card
NVIDIA® GeForce® GTX™ 980 4GB GDDR5 (1HDMI,1DVI,3DP)NVIDIA® GeForce® GTX™ 970 4GB GDDR5 (1HDMI,1DVI,3DP)NVIDIA® GeForce® GTX™ 960 2GB GDDR5 (1HDMI,1DVI,3DP)NVIDIA® GeForce® GTX™ 950 2GD5 (1D-SUB,1HDMI,1DVI)NVIDIA® GeForce® GTX™ 745 4GD3 (1D-SUB,1HDMI,1DVI)AMD® R9 380 2GD5 (1 HDMI,2 DVI,1 DP)
Storage
Up to 3TB SATA 6Gbit/s hard drive 7200RPMUp to 256G SATA 6Gbit/s SSD drive
Drive bay
1 x 2.5in, 1 x 3.5in
Adapter
230W and 180W
Primary CD/DVD
drive
9.0mm Slimtray Super Multi DVD burner9.0mm Slimtray Blu-ray Combo9.0mm Slimtray BD Writer
Wireless
Built-in Wi-Fi 802.11ac Bluetooth 4.0
Audio
ASUS SonicMaster technology ROG AudioWizard7.1 Channels
Keyboard
Wireless backlit gaming keyboard with multimedia keys
Chassis
9.5-liter chassis
I/O ports
Front mounted:
2 x USB 3.0 x 21 x Mic1 x EarphoneRear panel:1 x RJ45 LAN1 x 8-channel audio1 x HDMI-Out2 x USB 3.12 x USB 3.02 x USB 2.02 x Power jack
Size
104 x 340 x 358mm
Weight
6.38kg