Google Maps introduces you to the elephants of Kenya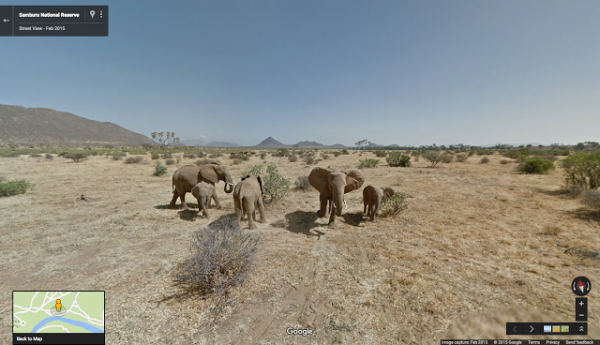 Care to go on a safari? It's a childhood dream for some, but sadly, few will get there. Eastern Africa is a long trip for most people, not to mention a pricey one. Fortunately, there's no need to break the bank for a lengthy flight and a bumpy ride in a Land Rover. Google Maps Street View can get you there for the low price of free.
This is the first time Google has released imagery in the nation of Kenya. Now the Street View team has trekked the Samburu National Reserve to bring the wildlife to your desktop. This release is specifically elephants, and was done in conjunction with the Save the Elephants research camp.
If this sounds odd, then it's not -- think of the value of the ivory. Research indicates 100,000 elephants were poached for that material between 2010 and 2012. The reserve is helping the population slowly return.
"Every time I drive into the Reserve, I can see the trust on the elephants' faces and feel a warm welcome. When I'm out and about, I never know which of my fellow citizens I'll bump into next. It could be some of the 600+ elephants I can recognize", says David Daballen, head of Save the Elephants.
"Visiting the David Sheldrick Wildlife Trust, you can see the devastating effect of poaching and other causes of elephant deaths in Kenya. Founded in 1977, the Trust provides lifesaving assistance to wild animals in need, including orphaned elephants and rhinos".
Next up is the Lewa Wildlife Conservancy. We can only hope that all of this is preserved for future generations, as it would be a travesty to lose it, in more ways than one. You can check it out here.