Ingenious design: iClever Portable Foldable Bluetooth Keyboard [Review]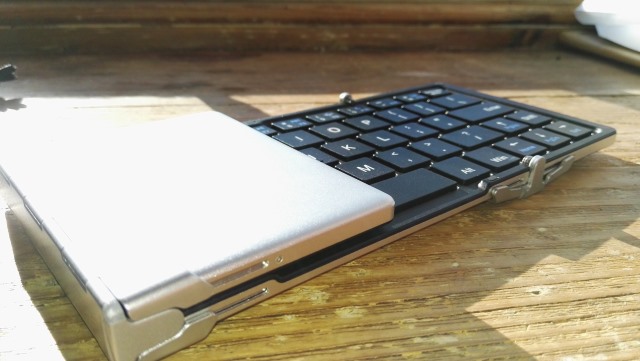 You might think it would be hard to get overly excited about a keyboard. I understand, I felt the same. But then I tried out the iClever Portable Foldable Bluetooth Keyboard and my opinion changed. I've used various portable/mini keyboards before and they have been -- almost without exception -- utterly awful.
The iClever Portable Foldable Bluetooth Keyboard gets off to a great start; it has a lot of things in its favor. The metal construction gives it a solid, robust feel and a great semi-industrial look. The aluminum has neatly curved edges, but at the same time it feels wonderfully brutalist. The real killer feature, however, is the foldability of the peripheral which means beautifully sizable keys are available for typing on.
Unfolded, the iClever Portable Foldable Bluetooth Keyboard measures 251.7 x 89.6 x 6.6 mm, and is powered by a 210mA rechargeable battery. iClever claims that it takes just two hours to fully charge and boasts 84 hours of continuous operation and an impressive standby time of 218 days (sorry, we'll just have to take iClever's word for this as I don't have a spare seven months to find out if it's true).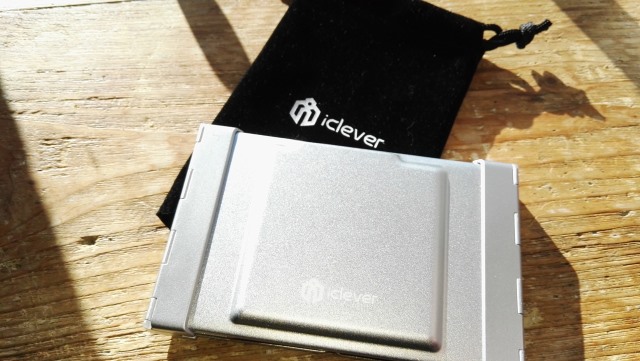 Weighing in at just 185g (or 6.5oz if you prefer), the keyboard is hardly a burden in your pocket or bag, and a simple black drawstring pouch is provided to protect it from bumps, scrapes, and dirt. An ingenious piece of design, when unfurled the keyboard offers the full range of keys -- although there's, unsurprisingly, no numpad. The keys provide just the right amount of resistance, and there's not too much travel so it's possible to build up quite a turn of speed. The backspace key is badly positioned, though -- I found I was constantly hitting the \ key, but this could be something you get used to over time.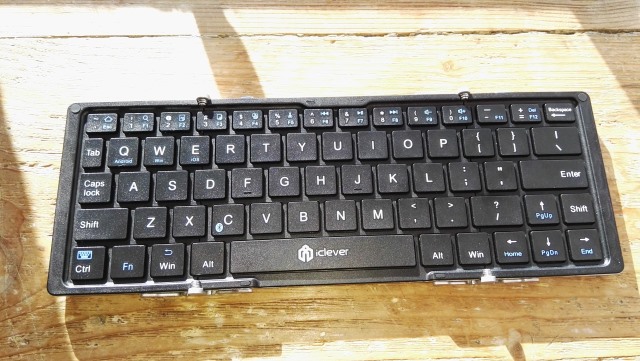 While there is a dedicated Windows key, the keyboard can be used with any device that allows for Bluetooth pairing. The Fn key provides access to a number of Windows, iOS, and Android specific shortcuts. As a writer I spend a huge amount of time chained to my keyboard, so it's important that whatever I'm using works well. Despite being a 'travel' keyboard, the iClever Portable Foldable Bluetooth Keyboard is just about good enough for me to consider using it full time. It was an absolute joy to use with my Surface Pro.
I was prepared to be disappointed by this keyboard, but I ended up being blown away by just how enjoyable it is to use. I'm not saying I would use it as my everyday keyboard, but it is not meant to be a full time replacement. For quick sessions of typing when traveling, it is absolutely perfect. It is almost immeasurably faster than using an onscreen keyboard on a phone or tablet and, of course, means that you can see more of your actual screen.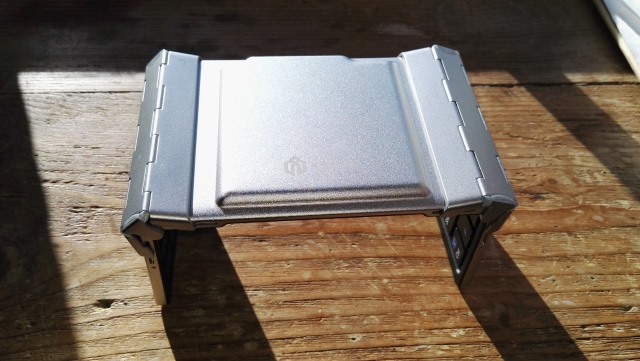 There is, however, room for improvement. There's no battery indicator, although this is perhaps not a major issue as a quick charge via USB is all that's needed -- you could use your phone charger if you're not in a position to connect the supplied USB cable to a computer. I have slight concerns about the hinges. They feel robust enough, but it's hard to tell how they will stand up to abuse over time. The construction is solid, but the plastic covering over the joints seems like a slight weak point. Time will tell, I guess!
I was very much a mobile keyboard skeptic, but this device converted me.
You can pick one up from Amazon. The list price is $99.99, but at the moment you can get one for just $32.99... and I can't recommend highly enough that you do just that.
Photo credit: Mark Wilson