VisionTek High Power 40W Five Port USB Car Charger [Review]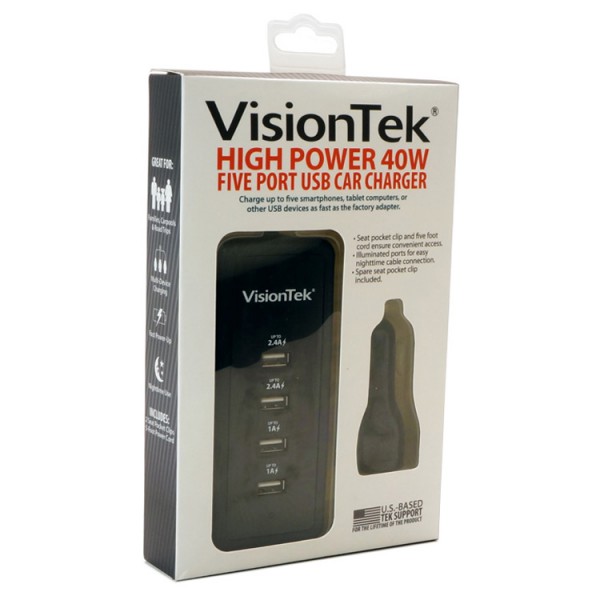 Smartphone battery life has improved over the years, but it is still largely deficient. For many consumers, it is still impossible to make it through a full day without needing a charge.
Luckily, for those of us with cars, we can charge it while traveling. The problem? Most chargers will only accommodate one phone at a time. Yeah, some can handle two, or even three, but what if your family is larger than a trio? Ahh, well, that is where VisionTek's 40W Five Port USB Car Charger comes in. Yes, it offers five USB ports with simultaneous charging. Should you buy it?
Specs
Power Outlet Plug: 1 x up to 2.4A charging port
Smart Charger: 2 x up to 2.4A charging ports, 2 x up to 1A charging ports
Total Output: 40 watts/8 amps
Power Outlet Plug: 1.22 in D x 2.83 in H (31mm x 72mm),
Smart Charger: 5.11 in L x 0.21 in W x 0.94 in H (130mm x 5.5mm x 24mm)
Weight: 6.10 oz (0.173Kg)
Input Voltage: DC 12V-24V
Power Cord Length: Five feet
Warranty: One Year
Unboxing
Impressions
Most of my driving is done when I am alone -- usually a morning and afternoon commute. I tend to charge my phone on both legs of my trip, often because I forget to charge it at night, so it is low in the morning and then depleted again by the end of the day.
For solo charging, VisionTek's offering worked wonderfully; charging just as fast as any other USB charger, although not as fast as the fancy Quick Charge variants. The real test, however, would be traveling with people so that it can be pushed a bit.
On numerous occasions, while driving with one, two, or three other people, I utilized the VisionTek 40W Five Port USB Car Charger with great success. With three phones connected, charging continued without any issue. I even charged four phones and a small Acer Android tablet as a test and it worked flawlessly.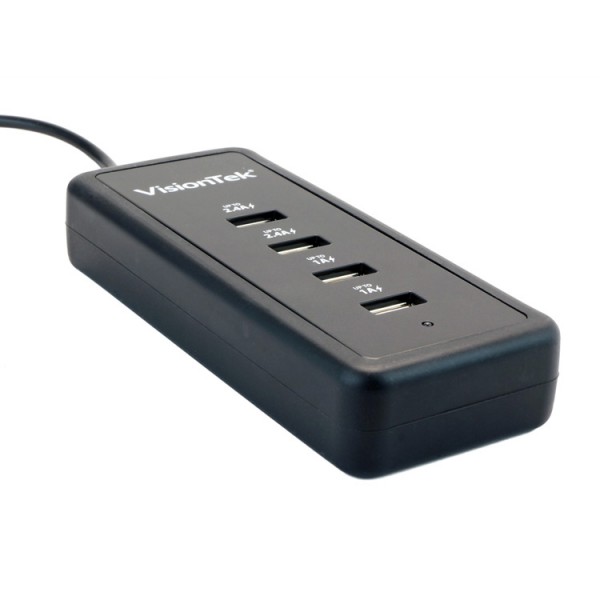 The story does not end there, however, as the magic continued by way of the extra-long five foot cord. This past weekend, I went apple-picking on the east-end of Long Island. Since there would be multiple people and a need for a larger vehicle, my Focus stayed home and we took someone's SUV instead.
When I needed to charge my phone, the driver was able to plug the VisionTek 40W Five Port USB Car Charger in the front and comfortably run the charger to the back. The long cable makes it very useful. It even includes clips so you can secure it onto things, such as the storage pocket behind the front seats.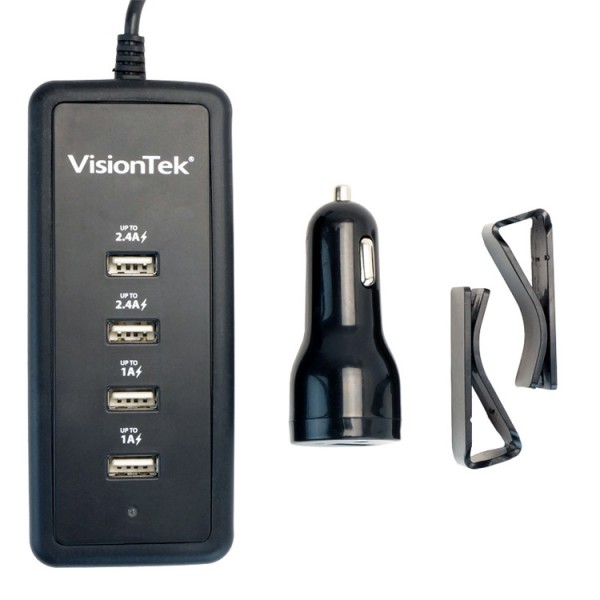 The cable is rather thick, so it should last a long time. The charging box itself is well-built too, as it is thick plastic wrapped in a removable rubber-like housing. It should take abuse.
Ultimately, at $19.99 you cannot go wrong. If you have a large family or tend to commute with friends or coworkers, the VisionTek 40W Five Port USB Car Charger can be a life saver. The company has hit a home run. Highly recommended.
If you are interested in purchasing, it is currently on sale at Amazon for a super-low $18.95 here (not a refer link).