Logitech announces the Logi Circle Portable Home Connection Camera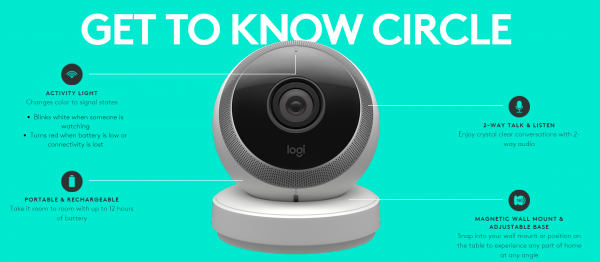 When I leave my house, I always wonder what's going on inside. No, I don't want to spy on my family (not the humans, at least), but I do want to spy on my dog! Sometimes I go out for a few hours, come home, and she is still laying in the same spot. Maybe she is running around and playing in between; I'd love to know. In all seriousness, it would be nice to check on her well-being while I am away.
Logitech, or should I say "Logi", has created a new product that meets my puppy-watching needs, but is so much more -- security, communication, etc. The Logi Circle Portable Home Connection Camera is an Internet-connected camera that can be used in a stationary spot (including mounted to the wall if you choose) or portable. It even stores recorded content in the cloud. Very cool.
"Through the free iOS or Android app you can stream Live HD Video with 2-Way Talk & Listen over Wi-Fi. Smart filtering of all video happens with our Scene Intuition technology, so you see what matters most at home. It learns your home life patterns and filters the footage to send alerts only on interesting activity, so you don't need to sift through spam footage. And, when you want to see what action has taken place in your home, Day Briefs provide an auto-generated, 30-second video summary of the best moments from that day. You can see this daily summary with one touch of the app", says Logi.
The company formerly known as Logitech further says, "because life doesn't stay still, the Logi Circle is portable and rechargeable. Take the camera room to room with you, and when you need to recharge it simply place on the included magnetic charging ring. The rechargeable battery can stream for up to three hours, and lasts up to 12 hours in power save mode".
I had the pleasure of trying the Circle a few months ago, and came away very impressed. True, Wi-Fi connected cameras for the home are not new, but Logi's offering is very easy to setup and use. The simple portability and convenient dock make it a good choice for those who want to use technology, not spend time making it work.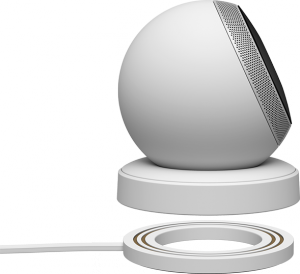 The two-way mode makes it interactive too, so I can talk to my dog, and she can bark at me -- she may need some help and encouragement, though. Oh yeah, the humans in my family can use it to talk with me as well.
Want to buy it? You do not have to wait long. The Logi Circle Portable Home Connection Camera goes on sale next month -- in black or white -- for $199.99.
Will you buy it? Tell me in the comments.