Android 6.0 Marshmallow: How to enable battery percentage and hide Quick Settings toggles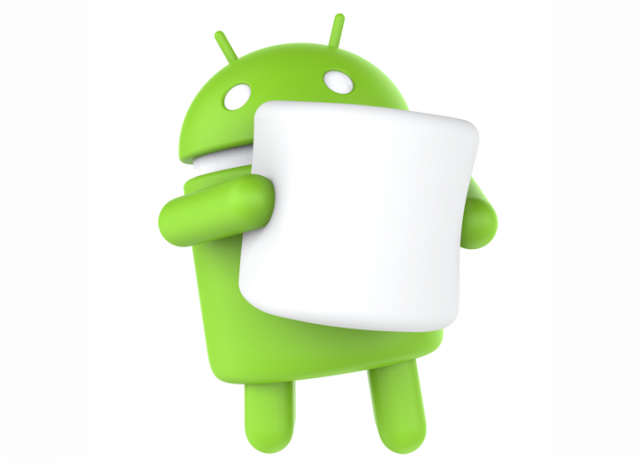 After upgrading to Android 6.0 Marshmallow on your Nexus device you have likely noticed that there is still no way to change how the battery information is displayed in the status bar or choose which Quick Settings toggles are shown in the notifications panel. Google continues to be quite limiting in this regard, which is a bit puzzling considering others like Samsung allow this kind of customization. (After all, who wouldn't like to see a battery percentage instead of a bar that is hard to interpret?)
Fortunately, both of those things can be easily customized without relying on third-party apps or rooting. All you need to do is enable System UI Tuner, a control panel that is included, but hidden by default, in the latest version of Android. Here is how you can do that.
All you need is your Nexus device running Android 6.0 Marshmallow. Unlock it, pull down the notifications panel so that Quick Settings is displayed, long press on the Settings (gear) icon and then lift your finger after a good few seconds.
You will receive a message on the screen that says that System UI Tuner has been enabled, and then you will be taken to the Settings menu. At the bottom of the screen you will find the control panel. You will also notice that there's now a wrench next to the Settings icon in the notifications panel.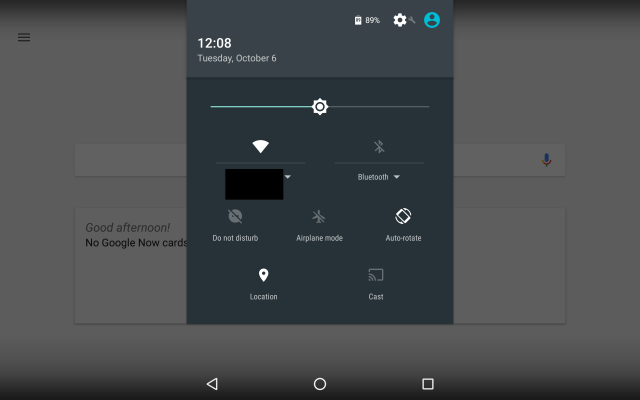 From System UI Tuner you can choose which Quick Settings toggles are displayed in the notifications panel, which status bar icons can be displayed, enable a battery percentage in the status bar battery icon and turn on Demo mode. The last feature changes the status bar icons to show full signal strength and battery and displays 6:00 as the time (thanks to PC_Tool for pointing this out).
As far as customizing Quick Settings goes, at least on my Nexus device there is only a single tile that is not shown by default and that is the Broadcast tile. Based on how I use my tablet I have decided to keep just a couple of toggles, to unclutter the notifications panel.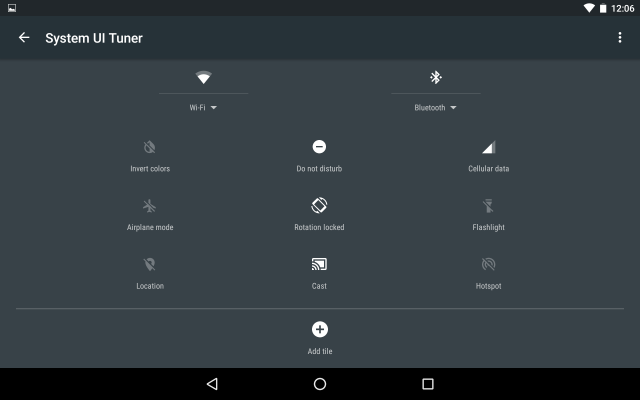 As far as which status bar icons show up, you can basically hide (all are enabled by default) things like the Wi-Fi icon, Airplane mode icon, Bluetooth icon and so on. If you make use of this feature you will have a less-cluttered status bar as a result.
The battery percentage is very easy to enable. Just tap on the option to enable it under System UI Tuner and it will be immediately displayed in the battery icon in the status bar. It may be a tad difficult to read compared to having the percentage next to the battery bar, like on a Samsung device, but it is miles better than stock.