How to uninstall antivirus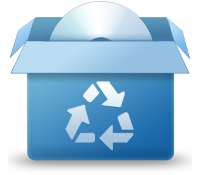 You don't need an antivirus package any more? It should be easy: just run the uninstaller and try something else.
Sounds great, until the uninstaller hangs, crashes, or won't run at all. And you can't install a new version because it demands you remove the old one first.
This can happen with any program, but security software tends to burrow much deeper into your system, which makes corrupted installations far more difficult to fix.
Fortunately there's plenty of free software which can help strip out your misbehaving antivirus, and leave your PC running smoothly again.
1. Try the uninstaller (again)
Removing antivirus software can be difficult, leaving you with major problems if there are any mistakes, so it's wise to spend some time with the official uninstaller before you try anything else. (Yes, we know, you're only here because that hasn't worked, but let's quickly run through the options anyway.)
If the uninstaller isn't working, make sure you stop any current antivirus activity first; if it's just not available, check you're logged in as an administrator (or whoever installed the program originally).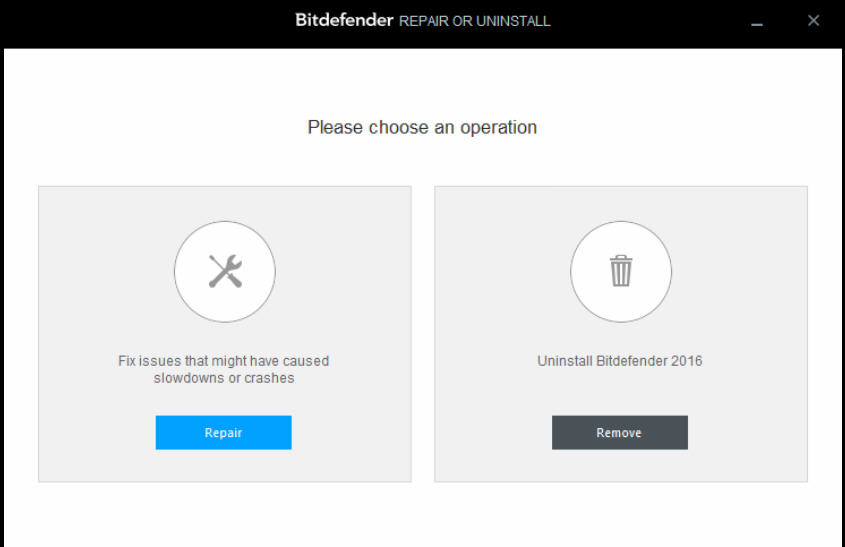 Close down all other applications and try again.
Reboot into Safe Mode, and try again.
If selecting or double-clicking the package in Windows' "Programs and Features" applet gives you a Repair option, select this, and the package may be able to restore or update any corrupted files.
You could also try refreshing your setup manually by downloading and installing a copy of the same package.
If the antivirus generally seems corrupt, ask yourself, could malware be responsible? Maybe something has tried to disable your security and caused this damage. Run a full system scan with your own antivirus if it's working, or try something like Avira's bootable Avira Rescue System to get a second opinion.
2. Official "cleanup" tools
If your regular antivirus uninstaller won't work, then many security companies provide separate cleanup tools to find and remove every relevant file and Registry key.
While in theory that sounds just what you want, it could also mean wiping important data like a licence or product key. Browse your package -- if it's working -- and manually note or save any details which might be important.
Alternatively, if you just want your antivirus to be gone -- and the sooner, the better -- then follow these links to download the official cleanup tools for each developer.
Avast
AVG
Avira
Bitdefender
ESET
F-Secure
G Data
Kaspersky
Malwarebytes
McAfee
Norton
Panda
Trend Micro
Trusteer Rapport
If your product isn't on the list, or you need to clean up antivirus packages regularly, check out Antivirus Remover. It's a free portable package which provides direct download links for 30+ cleanup tools. We would treat these with caution -- not all are hosted with the original developer, and there's no link to any web page with more information -- but if you're out of options then they might be worth a try.
Whatever utility you find, make sure you're running it as an administrator for the best results. Try again in Safe Mode if that's no help, and disable any antivirus "self defence" or "self protection" feature which might prevent its files and Registry keys being removed.
3. General Uninstallers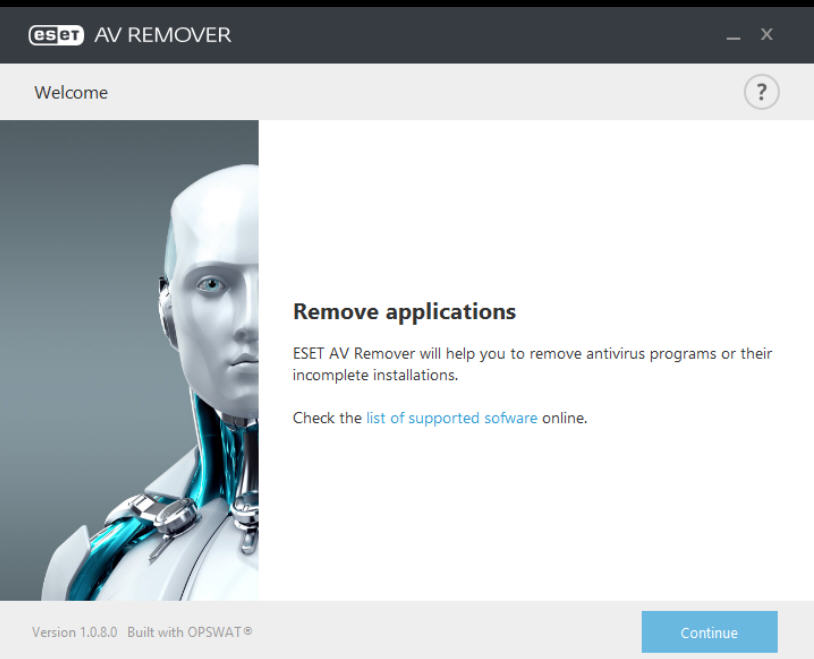 If your application doesn't have a custom cleanup utility then there are various third-party uninstallers which might be able to remove it for you.
Pay particular attention to the word "might", because there are no guarantees, and mistakes can cause all kinds of odd problems. Delete the core av files but not a network filter, for instance, and your PC might lose all connectivity (oops).
If you'd like to try anyway, be sure to create a system restore point and/ or back up your PC first.
As with the company's own cleanup tools, you'll need to run these as an administrator, perhaps in Safe Mode for best results, with your antivirus self-protection features disabled.
ESET AV Remover is a wizard-based tool which can remove some (though not always the latest) products from 360Safe, Agnitum, avast, AVG, Avira, Baidu, Bitdefender, BullGuard, ClamAV, Comodo, Check Point, eEye, Emsisoft, ESET, F-Secure, G Data, GFI Software, IObit, iolo, K7, Kaspersky, Lavasoft, Malwarebytes, McAfee, Microsoft, Panda, Quick Heal, Safer Networking, Sophos, Norton, Trend Micro, TrustPort and more.
ESET is uninstalling software using technology from OPSWAT, which you can access yourself by installing OPSWAT Gears. The bundled AppRemover tool can automatically uninstall the same lengthy list of security tools, but supports removing a host of other products as well.
Geek Uninstaller is an excellent, portable and free (for personal use) tool which can "force" the removal of any application, detecting and removing related files and Registry keys.
IObit Uninstaller will by default use a program's own uninstaller, but after that it's "Powerful Scan" option warns you of leftovers, and deletes whatever you choose.
Revo Uninstaller is a classic of its kind, but the program hasn't had any major updates for quite some time, and you'll probaby need the commercial Pro version to fully remove your antivirus.
Wise Program Uninstaller doesn't have the track record of some of the others, and our tests suggest it's not always as reliable. But the program is easy-to-use and no-strings free, so might be worth a try -- just pay particularly close attention to the list of everything it wants to delete.
4. Manual removal
If nothing else works, and there's no backup, system restore point or any other safe alternative, then you could try to remove your antivirus manually.
This is generally a very bad idea, but if you ask on any support forum for your product, or check with the developer directly, they may be able to give you more advice.
Search online and you may also find some guidance, like these pages on Avira, ThreatTrack Vipre and some old advice for Microsoft Security Essentials.
We're not sure how reliable any of these might be now, but even if you've another product, they're a useful guide to the basic principles.
Just be sure to create a system restore point and a full backup before you do anything risky.