HP AMD-powered t730 is first thin client with native 4K -- offers Windows or Linux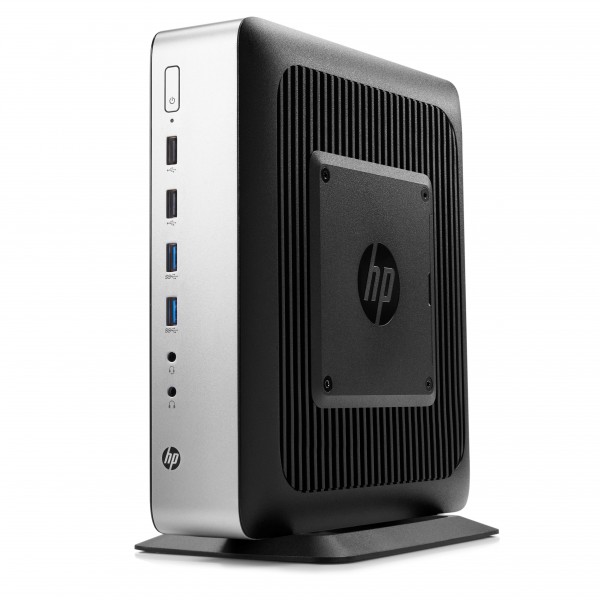 Business workstations and thin clients are often boring affairs; however, they do not have to be. There is no reason why such a computer cannot have some sweet technology inside of it.
Today, HP announces the t730 thin client -- an exciting thin client. This svelte machine features a quad-core AMD APU and up to 16GB of RAM. The truly impressive aspect, however, is that it can natively support 4K video out -- HP claims it is the world's first thin client to do so. It features an impressive four full-size DisplayPort connectors. You can even add an AMD Fire Pro W2100 for a total of six Display Ports.
"The new performance leader in the HP Thin Client lineup empowers businesses to work in the content-hungry environment they want, without add-ons, extras or options. The HP t730 excels in this emerging market for customers in high-performance sectors, like financial services, oil/gas, digital media, and engineering, with an easy and secure solution to drive their heavy content needs", says HP.
The manufacturer further says, "supporting more displays than the average desktop PC, the HP t730 natively drives four displays at the new UHD/4K resolution standard, and six displays with an optional AMD FirePro discrete graphics card. Multimedia is presented in eye-popping detail that translates to a staggering 8,294,400 total pixels. The AMD R-Series quad-core APU with Turbo Core technology accelerates CPU performance up to 3.6 GHz to run the most demanding workstation-class apps, and render high-frame rate video to connected displays".
HP lists the following notable specs.
CPU: 

AMDRX-427BB APU with Radeon HD9000 graphics (2.7GHz up to 3.6GHz, 4MB cache, 4cores)

Storage: 

8, 16, 32, 64 or 128GB MLC flash memory 

Graphics: 

AMD Fire Pro W2100; AMD Radeon GPU

System Memory: 

Up to 16GBDDR3L-1600 SDRAM
What I really love is that both Linux and Windows are available. If you want a Microsoft OS, you can opt for Windows 10 IoT Enterprise for Thin Clients or Windows Embedded Standard 7P. Linux lovers can choose either the HP Thin Pro or HP Smart Zero Core operating systems.
If you are a decision maker in your company, the $599 starting price should be very attractive. If you are a lower-level IT worker, the low-price and impressive features should make this an easy sale to management.
If you are interested in buying, it will be available in December. In the interim, you should contact your existing HP business contact for more info. If you are not currently under contract with HP, or any other company, you can contact its general business sales line to establish a relationship.