Todoist launches Windows 10 universal app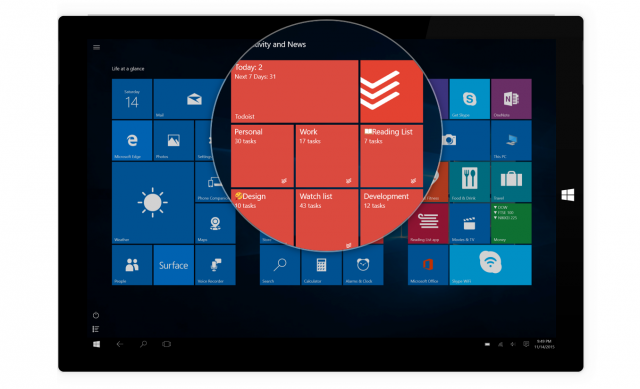 Microsoft is hoping that within the first two to three years after launch Windows 10 will run on over one billion devices. Expectations are high, but the new operating system has a few things going for it which can help it reach that milestone. One of them is universal apps.
The idea is simple: developers can build a single app that works across all types of devices that support Windows 10, including PCs, tablets and smartphones. The software giant's efforts are already starting to bear fruit, as Todoist has just launched its to-do app in Store as a universal app.
Todoist's to-do apps are regarded as some of the best in this category, and having a Windows 10 client -- even in preview form, as is the case now -- means prospective users have one less major app to worry about when considering a switch to the tiled operating system. It's one step in the right direction for minimizing the so-called app gap.
For those on PCs, however, the app's availability probably does not matter as much, as a desktop program is already available. But smartphone and tablet users are likely to find it much easier to access their To-Do accounts now.
The Windows 10 app is based on TaskCrunch, a Windows Phone Todoist client which it acquired earlier this year. The company says that the Windows 10 offering is its "first ever native desktop app", promising that it will offer a "Todoist look-and-feel that's optimized" for the platform.
There's support for custom Live Tiles, actionable notifications, a three-pane view and other features. It should be said that, at this stage, Todoist for Windows 10 is not optimized for Windows 10 Mobile devices nor is it available in other languages than English. This will come at a later date, and so will other features like integration with Cortana.
"In the coming months, our Windows team will be adding powerful new features like advanced filters, completed task history, and Cortana integration; optimizing Todoist for Windows 10 Mobile; adding support for all of our 20+ languages; and generally polishing the app to perfection", says Todoist.
Todoist is available to download from Windows Store.