Google Play Music family plan is here -- share with Uncle Dick, Nana, your mom, and more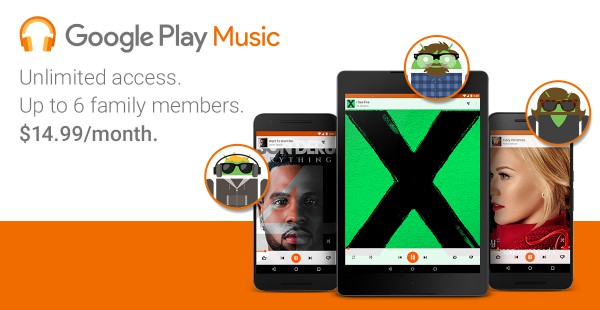 Music is one of the most important parts of my life. Listening to it is much more than a hobby -- it is with me throughout the day. Whether relaxing, working, or even napping, I often have some music playing in the background. Streaming services, such as the wonderful Spotify, have been a godsend for me, as I can consume all I want for a paltry monthly fee.
If you have a family, however, the subscription fees can really add up. The rise of family sharing plans should greatly alleviate this pain point. Today, Google announces that its previously announced family option is finally available. As much as I love Spotify, this deal may be too good to pass up.
"For families like mine, we're happy to start offering the Google Play Music family plan today. With the family plan, you and up to five family members can subscribe to Google Play Music -- together -- for just $14.99 per month. You'll unlock all of the same features you'd get from having individual subscriptions, including ad free, unlimited access to more than 35 million songs and the ability for each family member to stream simultaneously on any device, all for one low price", says Eunice Kim, product manager for Google Play.
Kim further explains, "now, you can keep your listening experiences separate from your partner and get music recommendations tailored to the music you like. So, my husband's Depeche Mode singles will never show up in my account -- only my true favorites will be front and center. And a family plan on Google Play will also get your family access to YouTube Red in the US".
Holy cow. For a super-low $14.99 per month, six people can gain access to the streaming music service. This equates to an insane $2.50 per user. Sweetening the deal even further, all six people get YouTube Red access, meaning seeing no ads on the video site, plus exclusive content from people like PewDiePie.
Keep in mind, the six people do not have to be related. It also applies to friends, coworkers -- even strangers. You can pick any five people you want. So while you can share it with your Uncle Dick, Nana, or your mom, you can also hook up your next-door neighbor or your BFF.
If you aren't currently a Google Play Music subscriber, will this get you to to switch? Tell me in the comments.