Crystal Security is a compact cloud-based malware detector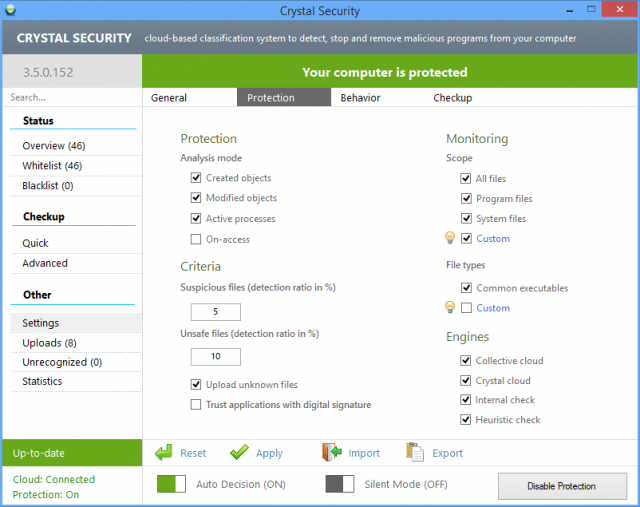 Install any anti-malware with real-time protection and you're generally weighing down your system with services, drivers, DLLs, background processes and more.
Crystal Security does things differently, its tiny download unpacking to a single 830KB executable which runs happily on Windows XP and later.
Features start with an on-demand scanner. Click Quick > Quick and the program crawls over your system, using multiple engines to look for dubious files, and uploading anything suspect to VirusTotal (called "Collective Cloud" in the Settings, confusingly) and Crystal's own cloud.
If you need a little more, Crystal Security can be configured to start with Windows, and run daily or weekly scans.
What's more surprising is that the program monitors your system while running, looking out for threats, uploading anything potentially dangerous to the cloud, and alerting you if necessary.
If you're already using a good antivirus system then this seem unnecessary, but there are a stack of settings available to customise how it works.
If you're concerned about the impact on system performance, for instance, you could reduce monitoring to your program files only, maybe disable checking for created and modified objects. Crystal still watches running processes and should offer useful protection.
Still too much? You could cut functionality back even further to monitoring startup locations only. It's basic, but still more than enough to justify the download.
If there's a problem here, it's the lack of any significant documentation. Where should you begin? What do individual functions do? How will individual settings impact your security? Mostly you're left to figure it out on your own.
Despite that, Crystal Security offers plenty of useful functions and features in an ultra-lightweight package, and if you've security experience – and the time to experiment – it's worth a closer look.
Crystal Security is a freeware application for Windows XP and later.