Bing Pulse rebrands as Microsoft Pulse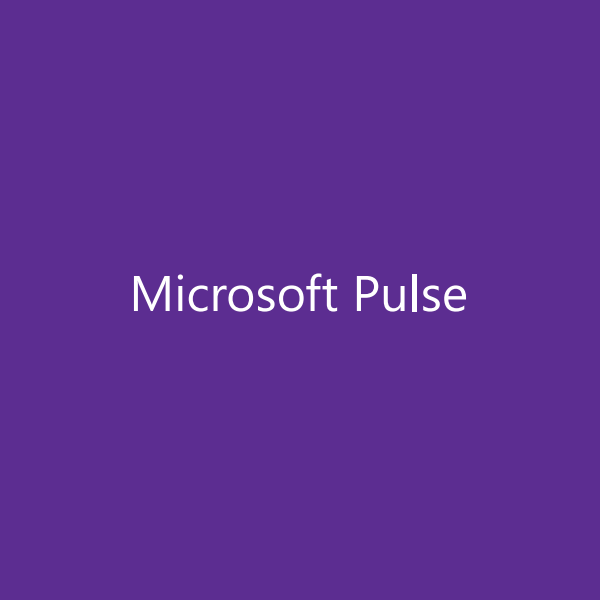 End-user data collection, analysis, and visualization are very important to businesses nowadays. Decision makers in companies have come to rely on this data for its predictive capabilities. When properly utilized, data can tell a story, which can help determine the strengths and weaknesses of a company. Smart people embrace negative feedback, as it is most beneficial to moving the needle. With that said, it is helpful to see positive feedback too, of course.
Bing Pulse has proven to be a valuable data collection tool, gathering user sentiment in real time during things like debates and the Presidential State of the Union Address. Pulse has been expanding, however, touching more and more Microsoft solutions (Azure, Skype for Business, OneNote, etc.) along the way. As a result, today, Bing Pulse is rebranding as Microsoft Pulse. This is more than superficial, you see, as Microsoft Pulse is also gaining new functionality, plus a refreshed focus beyond just real-time voting.
"Today, we're excited to announce that Microsoft's Bing Pulse is changing its product name and brand identity to Microsoft Pulse. Transitioning beyond instant voting and audience engagement, Microsoft Pulse now empowers users across diverse industries to engage with their customers, conduct research and analysis, and collect deeper insights in real-time", says Microsoft.
The Windows-maker further says, "Microsoft Pulse has also become a multi-platform service, integrating with several products within the Microsoft family, including: Azure Media Services (video), Skype for Business (meetings), OneNote (sharing), Yammer (enterprise communications), and Power BI (analytics). With a fully-loaded roster of free research features, users can now gain deeper insights in innovative and unique ways that go beyond engagement from anywhere in the world".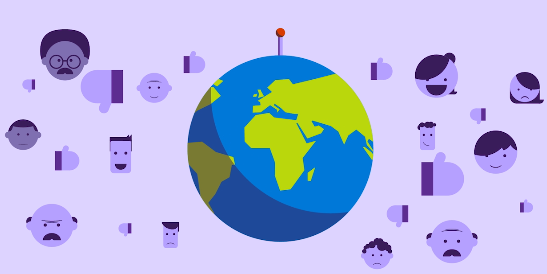 While people tend to associate Pulse with politics -- for which it is does shine -- due to high-profile usage by CNN and Fox News for political events, it is so much more. For example, it can be used in a classroom setting to monitor both student engagement and understanding, so that the teacher can adjust lessons accordingly. It can even be used in conjunction with Skype for Business, for real-time feedback for company meetings and presentations by employees.
Microsoft Pulse is gaining important updates to visualizations too, including more powerful dashboards. Of course, you can also connect to Power BI or use third party solutions by leveraging APIs.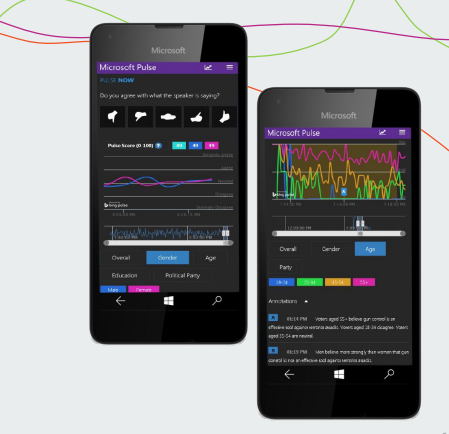 Microsoft shares the following new functionality in each of Pulse's respective categories.
Pulse for Broadcast

· Easier integration into broadcast graphics through Pulse's data API

· Push video content to all viewers' second screens during a live program or commercial breaks, synchronized (or not) with TV advertising

· Enhanced producer dashboard that gives producers ability to gain audience insights in real-time and push them out through a click-through annotations / shapshot API feature

Pulse for Events & Conferences

· Flexible API and auto-generated iframes allow easy integration of Pulse into personal event website

· Use Pulse with up to 10,000 users through Skype for Meeting Broadcast

· Deeper insight analysis with 1-click data download into Microsoft's business intelligence solutions, like Excel & PowerBI

Pulse for Market Research

· Fully scalable for researchers to run focus groups of any size, from anywhere in the country

· Video-push capability allows researchers to conduct remote audience studies and video content rating such as ad or message testing and track responses from various demographics

· Lowers the cost of market research by eliminating conventional hardware costs and capital requirements

Pulse in the Classroom

· Allows teachers to know whether students are comprehending lessons in real-time

· Anonymous voting so students are more inclined to participate

· Teachers and students copy a Pulse graph into a OneNote document with one click for sharing and notetaking

· Video integration and distance learning is now interactive, so student comprehension is gauged, whether the student is in the classroom or learning from the other side of the globe
Are you excited by the potential of Microsoft Pulse? Tell me in the comments.