Microsoft opens developer-focused HoloLens experience at NYC flagship store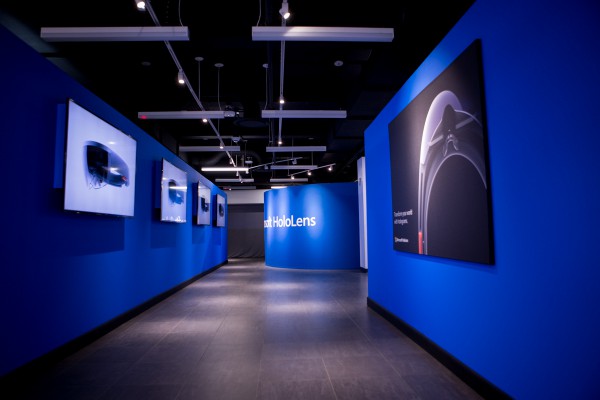 Virtual reality is hardly new -- it has been around for many years. The sudden popularity, however, is due to lower prices and improved technology. Makeshift headsets like Google's Cardboard impressively leverage existing smartphones, but are limited by being nothing more than slabs strapped to the user's face.
Microsoft's HoloLens is far more advanced as it blends reality with fantasy, for augmented reality, or AR. Yes, it is certainly more expensive, but as wise people say, "you get what you pay for" -- AR arguably has more potential than VR. More importantly, not only is the Windows-maker's solution designed for consumers, but for business and scientific purposes too. For example, NASA is embracing HoloLens. With that said, hardware is only as good as its software, so today, Microsoft announces the opening of a developer-focused HoloLens experience at its NYC flagship store. Will this encourage development?
"Roadshow feedback and participation was positive across the board, so much so that we have a long list of developers still hoping to get hands-on time with the device, with hundreds waitlisted in the New York metropolitan area alone. It's because of this overwhelming reception that we're eager to open the first ongoing HoloLens experience showcase for developers at the Microsoft Flagship Store in New York", says Alex Kipman, Technical Fellow for new device categories in the Operating System Group, Microsoft.
Kipman also says, "developers who have been wanting to try HoloLens will have the chance to experience the world's first fully untethered holographic computer, powered by Windows 10, for themselves. The dedicated space at the new flagship store provides an opportunity for developers to experience HoloLens first hand and get started on creating HoloLens experiences. In New York, developers will get a taste of how HoloLens can enable new ways for people to communicate, create, work and play".
Developers are the key to any platform's success, so this move by Microsoft is very wise. Unfortunately, keeping this HoloLens experience to a single city limits the number of developers that can actually try it. Yes, there are many bright people in New York and the surrounding areas, but development is a global-affair nowadays. Hopefully the company will bring it to more regions soon.
Are you excited by the potential of HoloLens AR compared to other competitors' VR offerings? Tell me in the comments.