Shut down Windows 10 telemetry with Win10 Spy Disabler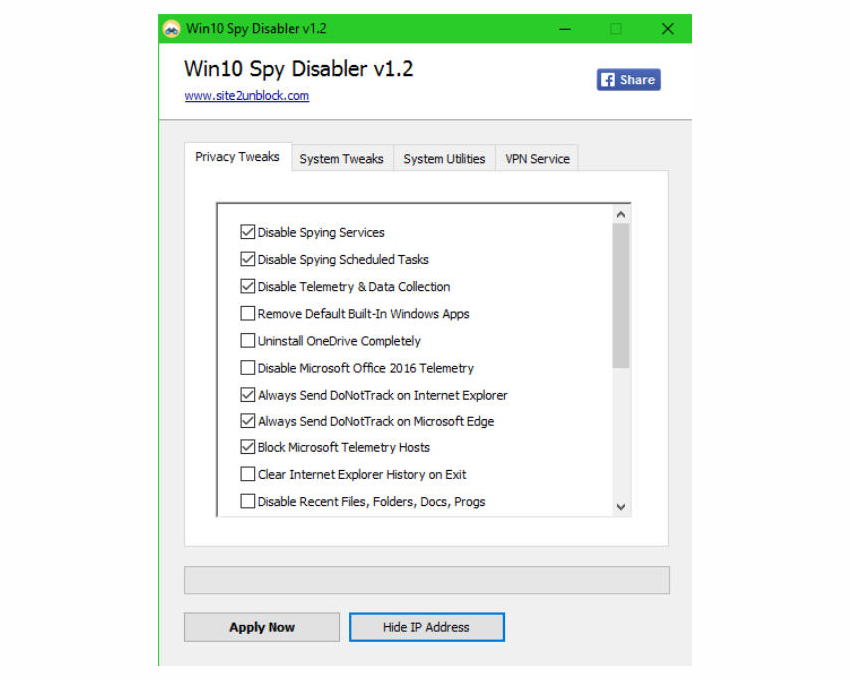 Windows 10 brought us Cortana. Edge. A brand new Start Menu. Oh, and a host of new and extended ways for Microsoft to capture data on your activities.
Fortunately 2015 has also seen the growth of a whole new market for programs to turn these technologies off again, and Win10 Spy Disabler is the latest example.
The program is a sub-2MB download which unzips 32 and 64-bit executables. Just double-click the appropriate version for you, or run the 32-bit if you're unsure.
Launch the program and it displays a list of 20+ "privacy tweaks" you can apply. Some are clearly Windows 10-specific ("Always Send DoNotTrack on IE/ Edge", "Prevent Wifi Sense from connecting to open hotspots"), others are a little more ambiguous ("Disable Telemetry & Data Collection"), and a few are standard privacy tweaks for any recent Windows version ("Disable Recent Files, Folders, Docs, Progs").
If you're looking for fine control then this probably isn't the program for you. "Disable Cortana, WebSearch, BingSearch" is a single option, for instance: if you only want to disable one of those, you're out of luck.
Still, Win10 Spy Disabler does a good job of keeping you safe, by offering to create a system restore point before applying any tweaks.
There's also a bonus "System Tweaks" tab which gives easy access to more general Windows settings: "Show Hidden and System Files", "Disable Windows Remote Assistance", "Disable Windows Update P2P Distribution" and more.
It's all very straightforward and easy to use, and if you just want to disable groups of technologies in a click or two then the program should work very well.
But if you need finer control over individual settings then we'd still opt for something more capable, like O&O ShutUp10.
Win10 Spy Disabler is a free application available for -- despite the name -- Windows 7 and later.