Google further legitimizes YouTube creators with upcoming interview of President Obama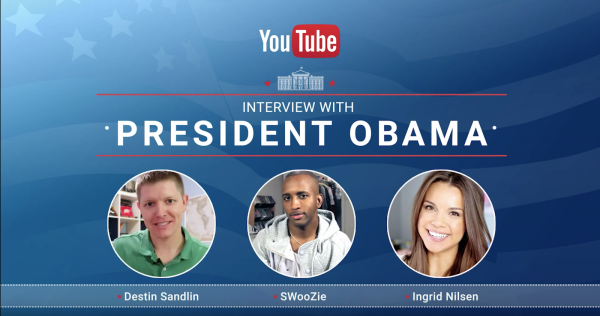 As the media landscape changes, alternative media is becoming much more popular. Creators on online platforms like YouTube and Twitch are becoming stars, rivaling their mainstream media counterparts. In other words, someone like PewDiePie could possibly attract a bigger crowd than some network TV stars.
Unfortunately, there is still a stigma that being a YouTube creator, for example, is a lesser level of celebrity. Well, Google is aiming to change this, and today, it announces that it will continue the tradition of giving some YouTube stars the opportunity to interview President Obama a few days after his final State of the Union address. Does this further legitimize YouTube creators?
"This Friday, January 15, Destin Sandlin, Ingrid Nilsen, and Adande Thorne -- three popular YouTube creators -- will travel to Washington, D.C. to host a live YouTube Interview with President Obama. They'll join the President in the East Room of the White House, asking a selection of questions that are top of mind for them and their fans. You can watch the whole thing on the White House YouTube channel -- and if you have a question for the President, suggest it by using the hashtag #YouTubeAsksObama on social media", says Ramya Raghavan, Google Politics.
Raghavan further says, "throughout his time in office, President Obama has used technology to open up the doors (all 412 of them) to the White House -- from posting behind-the-scenes photos of life in the West Wing to uploading a weekly address on the most pressing topics facing the nation. We're excited to have played a role in this process with our seven YouTube Interviews, tackling issues big and small, poignant and personal. We look forward to helping future presidents connect with Americans in compelling ways".
President Obama is probably our most tech-savvy president -- even his first campaign heavily leveraged social media. His utilization of YouTube not only captured the interest of modern youth, but set the bar for future politicians. Whomever becomes the next president -- Trump, Clinton, Cruz, Sanders or someone else -- I hope they continue this YouTube tradition.
If you want to watch the interview, be sure to tune in on Friday at the official White House YouTube channel here. Unfortunately, it airs at 2:15pm eastern -- when many people are working or at school. With that said, if you cannot tune in live, it will be archived for later viewing at your own leisure.
Don't forget to tune in to the official State of the Union address -- Obama's final such address -- at 9pm eastern tomorrow by clicking the same link as above. Republicans will get the opportunity to respond to Obama's speech shortly thereafter, and you can watch Speaker Paul Ryan's rebuttal here.
Who are your favorite YouTubers? Sound off in the comments.