Microsoft integrates Skype into Slack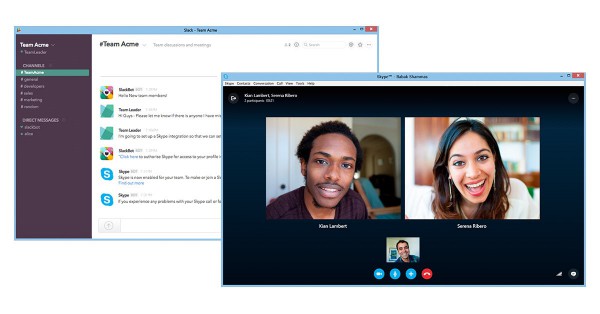 Slack is the current communication darling for many small and medium businesses. The SMB-focused communication and collaboration solution is pretty simple -- it is similar to internet relay chat. Just like IRC, you join a channel and have text-based communications with other people. Where it differs, however, is its native ability to integrate with other tools. In other words, its potential is arguably greater than many competitors.
Today, Microsoft announces that it is enhancing Slack in a very special way. The Windows-maker releases a preview of Skype integration for the aforementioned communication solution. The team here at BetaNews uses Slack, so of course, I had to give it a go.
"If your team uses Slack, a new choice of real-time communication is available beginning today. You can now access the familiar and trusted voice and video calling you've grown to depend on with Skype, right from within Slack. Setting up the integration is easy -- simply visit the Skype integration for Slack product page, and click on the Add to Slack button to complete the setup", says The Skype Team.
The team further explains, "once the Skype integration has been configured, anyone on the Slack team can start a Skype call from a computer. Just type '/skype' into the chat and when the call is set up, a join link will appear. Whether your team members use Slack on the web, Windows, Mac, iOS or Android, you'll receive a Slack notification that a Skype call has started, so no one will ever miss a call again. Whenever you want to start a new call, just type '/skype' into the chat again which will set up a new call for others to join".

To say the process was easy is an understatement. All that I needed to do was click the "Add to Slack" link at this page. From there, I just had to grant permission, and I was off to the races.
As you can see in the above screenshot, by typing '/skype', the channel was provided with a new link. My colleagues can then click on it, and join the Skype chat. Keep in mind, this doesn't have to be video -- it can be audio and text too.
What is particularly cool, is that you do not need a Skype account to participate. Users can register as guests, making their display names whatever they want. There is value in this, as people can speak anonymously, when it is warranted. News people who want to communicate with sources or conduct interviews can utilize this too, keeping Slack for internal affairs only.
Does your company use Slack? Are you excited for the Skype integration? Tell me in the comments.