TreeMapFs is a versatile disk space analyzer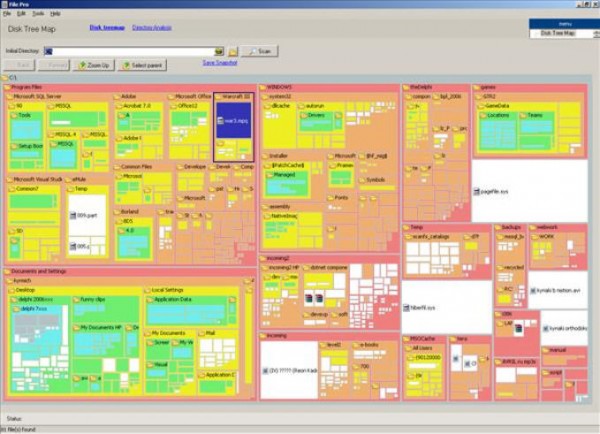 Storage space may be cheap these days, but wasting it is still a bad idea: the more you fill a drive, the longer file searches, antivirus scans and other system-wide operations will take.
TreeMapFs is a Windows application which provides various ways to analyze drive space usage, highlight resource hogs, and generally help keep your system running efficiently.
Installation is quick and easy, with no adware to worry about. The free-for-personal-use version is billed as having internal "ads", but our build only had a small space for a static banner.
Operations are more or less as expected, at least initially. Choose a drive to be analyzed, click "Next", and it's scanned in detail, and at high speed -- you won't be waiting for long.
When scanning is complete, the program displays a detailed graphical map of your folders. The folders taking the most space are displayed largest, the same for their subfolders, so you can spot the space hogs at a glance.
(Your map is compressed into a tiny area of the screen? By default TreeMapFs displays your free space in real-life proportions, so if your drive is 90% free then the rest of the map is going to look very small. Just clear the "Include free space" checkbox to view the file map on its own.)
Double-clicking a particular folder zooms to that folder in particular, and you're also able to zoom in and out, or pan around the tree map as you like.
Right-clicking a file or folder displays more options, including the ability to open an Explorer at that location for manual processing.
TreeMapFs also offers a simple Explorer-type view of the same data. A left-hand tree displays your folders in order of size, clicking something like \Users expands and orders its subfolders in the same way, and again the right-click menu allows you to open Explorer or command-line windows at that location.
You also get more basic "Folder Statistics" and "File Statistics" views with tables of data. These aren't as structured, but the ability to sort the tables by clicking column headers may help your analysis.
TreeMapFs also claims to have many other features, including the ability to take snapshots of your system, compare them and show the difference. Supposedly there are tools to synchronize directories, rename/ copy/ move/ delete files, or locate duplicate files which might be wasting your space.
Sounds great, in theory, but we couldn't get any of this to work. The relevant menu options remained grayed out, whatever we did.
Maybe these more powerful extras are unlocked if you buy a $20 "Corporate User" license. Perhaps we missed some other necessary step to make these tools work, or the program might simply be unfinished. The developer's website and local documentation didn't make it clear.
Fortunately none of that is fatal, because the core TreeMapFs analysis and reporting tools work fine and justify the download all on their own. If you'd like to understand more about your hard drive usage then we'd give the program a try.
TreeMapFs is a free-for-personal-use application for Windows XP and later.