AMD officially releases A10-7860K APU, Athlon X4 845 'Excavator' CPU, and new coolers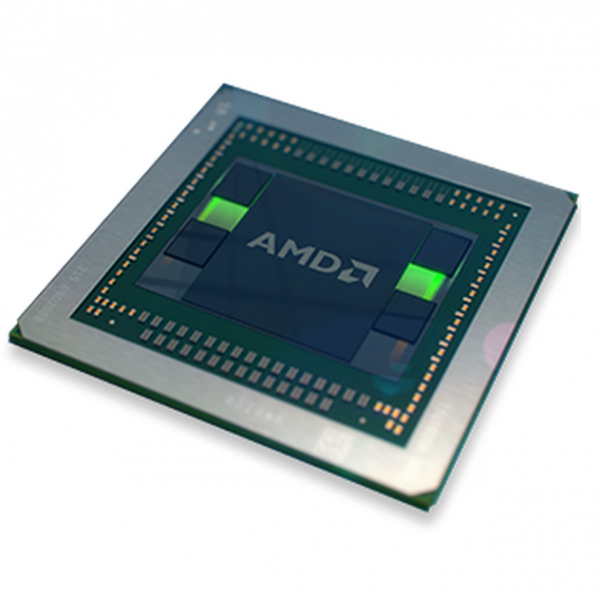 As a system builder, I am constantly looking for new hardware and good value. While Intel makes a fine processor, I often find myself choosing AMD solutions for builds. Why? The company makes great bang-for-your-buck processors and graphics chips. Its APUs are a phenomenal value, while its traditional CPUs are powerhouses. Gamers in particular should take a look at its offerings.
Today, AMD officially unveils two new processors -- the A10-7860K APU and Athlon X4 845 CPU. The latter is particularly notable as it is the first-ever CPU to feature the 'Excavator' architecture. To keep temperatures on these new chips low, AMD has revealed new coolers too.
"The AMD Athlon X4 845 is the first desktop processor featuring the AMD 'Excavator' x86 architecture technology. The quad-core CPU is clocked at 3.8GHz boost and offers the highest IPC (instructions per clock) AMD x86 performance yet. When paired with a discrete graphics card, the AMD Athlon X4 845 enables great gaming and multi-threaded processing performance for an attractive price. The new Athlon X4 845 is a 65W TDP processor that comes with a new AMD 95W thermal solution to provide excellent cooling performance and near-silent operation", says AMD.
The company further explains, "quiet, efficient and an incredible value, the new AMD A10-7860K APU is powered by four CPU cores clocked at 4.0GHz turbo boost and eight GPU cores with integrated Radeon R7 processor graphics running at 757MHz to enable smooth play of popular online games like Dota 2, League of Legends, and Counter Strike: Global Offensive. The A10-7860K is the first unlocked desktop A10 processor to feature 65W TDP (Thermal Design Power) and includes a near-silent thermal solution rated at 95W TDP to ensure quiet operation. In addition, the AMD A10-7860K supports AMD FreeSync technology that puts an end to choppy gameplay and broken frames with fluid, artifact-free performance at virtually any framerate".
Both of these processors look to be great values. The A10-7860K APU costs a very affordable $117, while the Athlon X4 845 is a mind-boggling $70. Holy cow, folks -- those are some low prices for such great hardware. Since the APU also serves as a GPU (with FreeSync), it should be a great choice for a budget build where consumers have modest gaming needs. The Athlon X4 845 also makes sense for those building on a budget, and should be awesome when paired with a lower to mid-range 300 series AMD graphics card.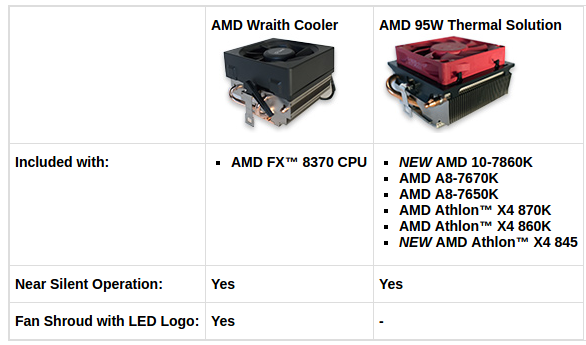 To cool those chips AMD is showing off a new stock cooler with a beautiful red fan and impressive copper pipes. Rated for 95W TDP, it could possibly be appropriate for modest overclocks too. This cooler will also be included in new packaging for certain existing processors.
AMD previously unveiled its beautiful 125W TDP Wraith Cooler, and today, it announces that it will be exclusive to certain chips, such as the FX 8370 CPU. The company promises it will be "near silent". While silence is great, I am probably more excited by the LED-illuminated logo on the fan -- sweet. Check out the first-look video above for more details.
AMD FX 8370 - $199.99 USD (New Wraith Cooler included)
AMD A10-7860K - $116.99 USD (New APU+New cooler)
AMD A8-7670K - $104.99 USD (New cooler included)
AMD A8-7650K - $94.99 USD (New cooler included)
AMD Athlon X4 870K - $89.99 USD (New cooler included)
AMD Athlon X4 860K - $79.99 USD (New cooler included)
AMD Athlon X4 845 - $69.99 USD (New CPU+New cooler)
If you are interested in purchasing, I have great news -- these new processors and coolers are available today. Will you buy them? Check out the pricing above and tell me in the comments.