Logitech announces G810 Orion Spectrum RGB Mechanical Gaming Keyboard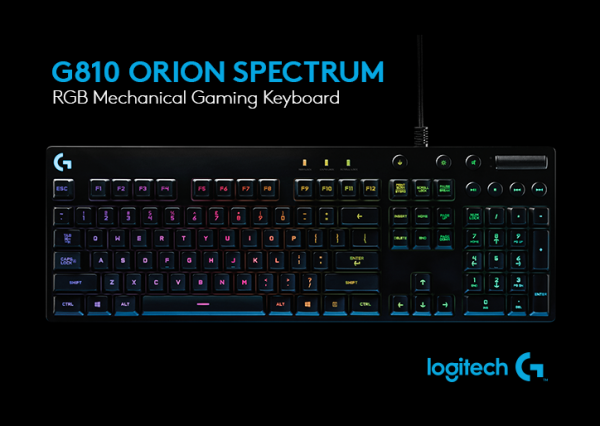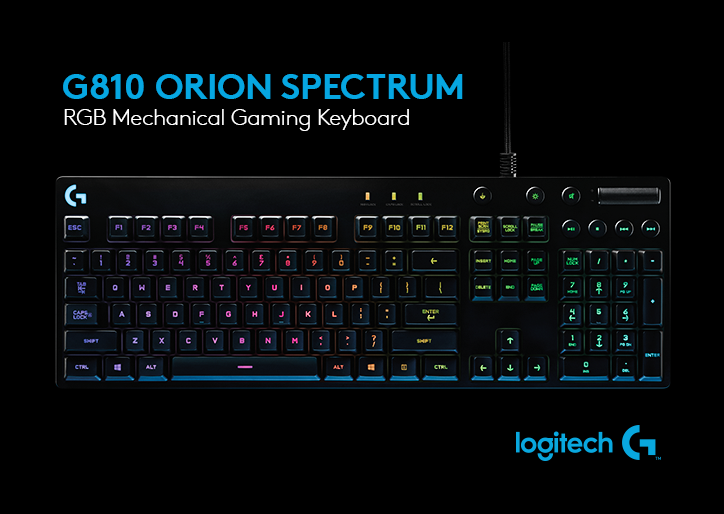 If you are like me, you probably spend a lot of time in front of a computer. Quite frankly, other than sleeping, there is nothing that I do more than computing. This means I am constantly using a keyboard and mouse. I have a comfortable bed for sleeping; shouldn't I also have quality input devices?
Yes. Everyone deserves quality tools for what they do. Whether you use a computer for work or play, a mechanical keyboard is a sound investment, as it can improve the typing or gameplay experience. Today, Logitech unveils a beautiful such keyboard -- the G810 Orion Spectrum. With a focus on gaming, it should also serve well for more general typing needs.
"We are very excited to introduce the new Logitech G810 Orion Spectrum, a full-size mechanical gaming keyboard that features Logitech's exclusive Romer-G mechanical switches and intelligent RGB illumination. Every aspect of the keyboard is precisely engineered, resulting in a uniquely crafted design to deliver peak performance for a pure gaming experience. This uniquely crafted keyboard represents Logitech G's dedication to better understanding what gamers are asking for and analyzing what will help improve their gameplay", says Logitech.
The famed peripheral-maker further says, "Romer-G mechanical switches deliver near-instant responsiveness, registering key presses up to 25 percent faster than standard mechanical switches. By using our Logitech Gaming Software (LGS), you can get full control of the keyboard. Select and personalize each individual key light from a spectrum of more than 16.8 million colors, and synchronize lighting effects with other Logitech G gaming gear".
So, how much does this beast cost? A pretty reasonable $160. If this price seems very high for a keyboard, you must remember that mechanical variants are often of much better quality than $20 generic models found at Amazon or the like. Logitech has historically produced durable products and this should be no exception.
On top of that, this 810 Orion Spectrum comes with cool features, like the customizable RGB lighting and well-designed media controls -- the volume roller looks awesome. It even comes with a free PC game -- Tom Clancy's The Division.
Will you buy it? Tell me in the comments.
This slideshow requires JavaScript.