PSA: Updating iOS could brick your iPhone 6 with error 53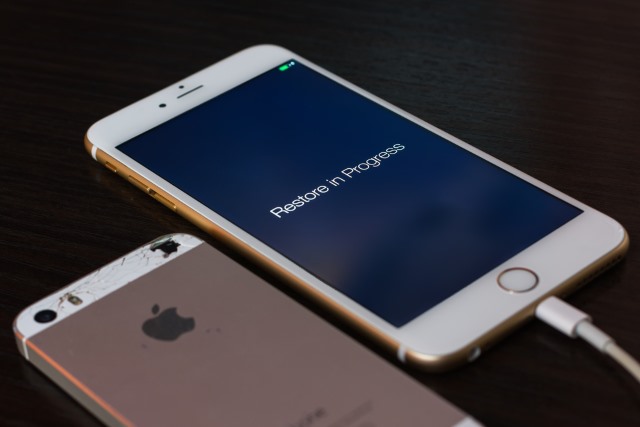 OS upgrades can often be a pain, but you don't usually expect to run the risk of killing the device you are upgrading. If you've spent a small fortune on an iPhone, you're likely to be particularly upset if an upgrade is borked, but this is precisely the problem facing iPhone 6 owners who have previously had their handset worked on by an unofficial third party.
Growing numbers of iPhone 6 users are encountering error 53 in iOS9, effectively rendering their handset useless. What the affected handsets all appear to have in common is that their home button was fixed by a non-Apple technician, although some users report the same issue if they have a problematic home button that has not been fixed.
The Guardian recounts the tale of freelance photographer Antonio Olmos. While working in Macedonia, he had to get his iPhone repaired at a non-Apple verified place due to the lack of Apple stores in the area. A short while later a standard OTA iOS upgrade was offered which he started to install. The installation never finished, and Antonio was left with a bricked handset showing error 53. Apple says there is nothing that can be done apart from buying a replacement.
There are lots of stories from other iPhone 6 owners on Apple Support, including from people who have not taken their handset in for repair. With the bricking issue seeming to affect only people with home button issues, and Apple charging hundreds of dollars for an official repair, rumors are circulating that Apple is using this as a cash cow whilst simultaneously trying to kill the third-party repair market.
Kyle Wiens from iFixit says:
The 'error 53' page on our website has had more than 183,000 hits, suggesting this is a big problem for Apple users. The problem occurs if the repairer changes the home button or the cable. Following the software upgrade the phone in effect checks to make sure it is still using the original components, and if it isn't, it simply locks out the phone. There is no warning, and there's no way that I know of to bring it back to life.
It is the lack of warning that is particularly concerning here. It's one thing for Apple to detect when third-party repairs have been carried out and use this as a reason to block upgrades (if this is indeed what is happening), it's quite another for bricking to happen on such a scale with no warning.
On Twitter, Samuel Gibbs from the Guardian summed things up perfectly:
I totally get the reasoning. But why brick it? Why not just warn and stop the install? That's ridiculous. https://t.co/FqSi2IeLTs

— Samuel Gibbs (@SamuelGibbs) February 5, 2016
What's Apple's take on things? It's a security feature, apparently. A spokesperson said:
We protect fingerprint data using a secure enclave, which is uniquely paired to the touch ID sensor. When iPhone is serviced by an authorized Apple service provider or Apple retail store for changes that affect the touch ID sensor, the pairing is re-validated. This check ensures the device and the iOS features related to touch ID remain secure. Without this unique pairing, a malicious touch ID sensor could be substituted, thereby gaining access to the secure enclave. When iOS detects that the pairing fails, touch ID, including Apple Pay, is disabled so the device remains secure.

When an iPhone is serviced by an unauthorized repair provider, faulty screens or other invalid components that affect the touch ID sensor could cause the check to fail if the pairing cannot be validated. With a subsequent update or restore, additional security checks result in an 'error 53' being displayed [...] If a customer encounters an unrecoverable error 53, we recommend contacting Apple support.
Photo credit: Attila Fodemesi / Shutterstock